Rio Carnival: Everything you need to know
From Sambadrome tickets to accommodation tips, we'll show you all the things you need to know about Rio Carnival in Brazil.
Looking for something in particular? Skip ahead to these sections:
Rio Carnival 2021
If you love to party then Rio Carnival 2021, running from February 12th to 17th, is your chance to lose yourself in the party atmosphere of Rio de Janeiro.
It's widely considered the biggest party in the world: a blend of the most electrifying, energising and astounding performances that you'll ever see. And you have so much choice – you can party down in the streets or glam-up for high-end sophisticated Carnival Balls – the choice is yours. This event entices partygoers and travel enthusiasts from every corner of the globe, so start planning now for your Rio Carnival tour.
Rio Carnival is an organised street party consisting of extravagant costumes and a party that just won't quit. In fact, there are over 400 parties to attend during Rio Carnival 2021 – that's a lot of partying!
Rio Carnival is at the top of people's bucket list the world over so you must get in quick. Book your accommodation and flights as early as possible to avoid disappointment and remember the festival is all about the party atmosphere, so bring your best moves with you.
The start of Rio Carnival
Rio de Janeiro, Brazil is the Carnival Capital of the World. Reigning over the greatest party in the world, the duty of officially declaring the start of Rio Carnival falls to King Momo.
In what has been part of almost a century's tradition, the arrival of the king and the ceremonial 'taking of the keys' herald the beginning of the festivities. At his command, Rio de Janeiro spills out into the night in lavish costumes and hedonistic revelry.
The Rio Carnival is unlike anything else in the world and the entire city gets caught up in the excitement. Street traffic grinds to a halt (not that you'd be driving to anywhere even if it weren't) and the city gives way to gigantic parade floats and samba school performances.
---
Rio Carnival dates
Planning a trip to Brazil and want to know the Rio Carnival dates? The festival runs for 5 days and always begins on Friday and ends on Ash Wednesday – 40 days before Easter.
Rio Carnival 2021
February 12 to February 17, 2021
Rio Carnival 2022
February 15 to February 20, 2022
The Samba Parade
The parade always starts at 9pm and runs until about 4am. The party continues until well after sunrise – this is Brazil after all.
---
Planning your trip to Rio Carnival
The festival is extremely popular and the Sambadrome specifically packs out early, especially on the weekend. It's highly recommended that you arrange plans at least 6 months in advance as foreign visitors alone number well over half a million. Over 5 million people celebrate Carnival in Rio in total, with 2 million people per day on the streets.
When you're planning your trip, it's worth knowing that in the weeks before the parade the entire city has an incredible vibe about it with everyone preparing for carnival. If you have the time, we highly recommend arriving at least a few days before to experience this.
Almost all hotels will also require a multi-night stay (some even have minimum 5-nights during Carnival), so plan accordingly.
Remember there is no such thing as a boring night in Rio, so no matter what year you go and for how long, it's an experience like no other anywhere on earth.
---
Staying in Rio
You need to take careful consideration as to where you want to stay during Rio Carnival. There are three basic options for places to stay in Rio: hotels, hostels or apartments. These are available in all neighbourhoods and have options to suit all levels of luxury or budget.
The Different Areas of Rio de Janeiro
The South Zone (Zona Sui) is the most popular area to stay during Rio Carnival. The South Zone consists of neighbourhoods with beachfronts which are spread out along the coast of the Atlantic. The West Zone neighbourhood is great for families, as most of the events for the 2016 Olympics take place here, so this area is being redeveloped in preparation. Plus, from here, you'll find Downtown (Centro) Rio in a central location and easy to navigate to by using either the Rio Metro subway or a taxi.
Hotels in Rio
There are huge variety of hotels for you to choose from in Rio. Just remember before making a booking that during Carnival, most hotels have a mandatory check-in date and a four to five night minimum stay.
High-end hotels can get very expensive during Carnival (5 to 10 times the usual rate), but that doesn't exclude those travelling on a budget. Most times your hotel room is just a place to shower and sleep and you're not likely to spend much time there during Carnival. Once you've sorted the cost factor other important considerations you need to make when choosing a hotel is to choose one which is clean, comfortable and in a convenient location so it can act as your home base.
Hostels in Rio
For those experiencing Carnival on a budget, hostels are an ideal place to stay. Hostels can be found all throughout Rio and they provide a low-cost alternative to hotels and apartments. Hostels provide socially-cohesive accommodation where travellers can rent beds (which usually take the form of dormitory-style bunk beds) and share a bathroom, with the main area containing a general lounge and kitchen.
Apart from the bunk beds, many hostels also offer private rooms. If you plan on staying at a hostel, you'll save money and you may have a great social experience, being able to meet with and mingle with many different people from different nationalities and cultures.
Apartments in Rio
Renting apartments has become a popular accommodation option for Rio travellers over the years. Renting an apartment is like renting a 'home away from home,' which offers spacious, comfortable living. Apartments can be found in every Rio neighbourhood and can be anywhere from one bedroom to five bedrooms. Plus, they often provide cleaning services.
---
Sambadrome tickets
Sambadrome tickets sell out quickly and can be extremely difficult to get if you wait too long.
It is highly recommended you arrange this as soon as they become available as some options sell out a year in advance.
A list of Sambadrome ticket options are below.
Remember, you do not need tickets to attend Rio Carnival, but you will need them to enter the parade at the Sambadrome – there are hundreds of other parties throughout Rio, specifically near Copacabana and Ipanema beach.
The Sambadrome consists of several sections and ticket prices will vary for each.
This is the home of Rio Carnival, and the parade here is considered "the greatest show on earth".
Getting Sambadrome Tickets
When you pick up your Sambadrome parade tickets, they will come in a plastic bag containing 1 ticket attached to a lanyard, with a small part that will be collected at the gate. If the second part of your ticket gets detached and lost, you will not gain entry into the Sambadrome.
You should therefore leave your ticket in the plastic bag until you arrive at the gate. Once you pass the gates, the lanyard must be worn at all times in order to gain entry into your sector (section). You are allowed to move in and out of your sector freely, but re-entry is not permitted once you leave the gates of the Sambadrome.
Places and Seat Types
Grandstand – No allocated seats, these are affordable and you can sit high up for a great view over the whole parade
Open Front Boxes – Just in front of the Grandstand, these have assigned seating
Private Chairs – At the very end of the Sambadrome, these have allocated seating
Covered Grand Tier Boxes – Covered boxes ideal for when it rains
Luxury Suite Lounge Folia – Accommodates about 1,000 people and features dance floors with DJs
Luxury Suites – the very best available and the most expensive.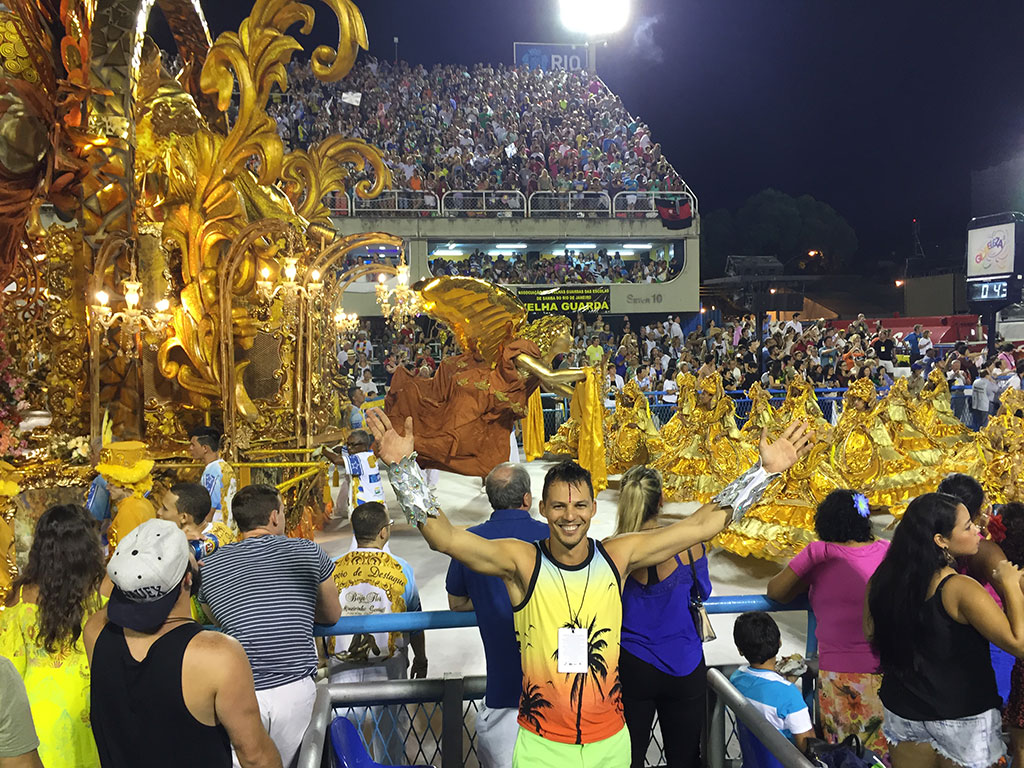 ---
Sightseeing at the Sambadrome
If you're looking for an epic extravaganza then you won't be able to look past the extraordinarily glamorous samba school parades. Running every night from the Friday until Monday, these last from 9pm right through until the daylight hours of the following morning. The samba schools definitely know how to put on a show and you will not be disappointed.
They're the biggest attraction at Rio Carnival and many would say that going along is worth it simply to catch a glimpse of the intricately detailed flamboyant parade floats. In fact they are a huge part of Brazilian culture and participants spend months, even the entire year planning for the event.
What you'll notice is that the samba dances are not put on just to please you; they are competitive with each school vying for your approval and support. Members involved in the dance-off often number in the thousands aboard dozens of stunning floats and hundreds of drummers.
Each night, the parade itself will consist of around 30,000 contestants performing in front of an audience some 90,000 strong. When choosing your tickets to the Sambadrome the best seats are to found at terrace level from the cadeiras and the arquibancadas, as well as from the boxed seats of the camarotes.
Rio Carnival balls
The attraction of Rio Carnival is that just about everything can be seen and experienced for just pennies a day. Tickets for the carnival balls are not to be missed.
Although a costume isn't mandatory (there are a few expectations however), you might feel very out of place if you weren't dressed in a sequined gown or feathery outfit. Just remember that standards are high in the carnival capital.
A costume ball at Rio Carnival is sometimes not exactly what you would expect. In place of lofty manners, courtesies, and classical music, Latin-American rhythms provide the soundtrack to the frenzied samba routines that rule the dance floor.
Most people will party out on the streets during Rio Carnival 2021; however, the elite will gather for the annual Magic Ball at the Copacabana Palace Hotel. The tickets can be pricey for this event, but they still sell out fast, so if you're interested in attending this upscale event book your tickets early.
There are also six different Balls held at the Scala Rio nightclub, with the most popular being the last party at the Scala – the Scala Gay Ball, known for its wild and crazy costumes.
Partying in the Streets of Rio
But the heart of the party will be seen in the streets of Rio, and this is where you can party for free. Many blocos (small groups) organise their own street parties, with some of the best-known bloco parties being the Monobloco, Quase Amor, Imprensa, and Que Eu Gamo. It doesn't really matter where you party in Rio, because this as the party of a lifetime.