Does the thought of Oktoberfest's 6 million visitors intimidate you? Are the hotels prices for Oktoberfest simply breaking your bank?
If so, we have just the solution for you: Munich's Springfest (known locally as Frühlingsfest). Springfest is often referred to as "Oktoberfest's little sister" and has all the excitement and celebration of Oktoberfest, but on a more palatable level for many.
Check out the complete guide to Springfest Munich here
Not convinced yet? Check out these 7 reasons to check out out Munich's Springfest:
1. It's a smaller version of Oktoberfest
If you're not a "crowd person" but still want to experience the food, flair, fun, and frothy beverages of Oktoberfest, Springfest Munich is for you.
While Frühlingsfest takes place at the same location as Oktoberfest (the Theresienwiese, AKA the Wiesn), it's greatly scaled back. At Oktoberfest you will be able to party in 16 enormous beer tents, but at Springfest that number is a more manageable two.
You'll get to ride all the same rides, try all the same delicious foods, hear the same tunes, wear the same outfits, and prost 'til you drop… but without possibly feeling like you're entirely overwhelmed.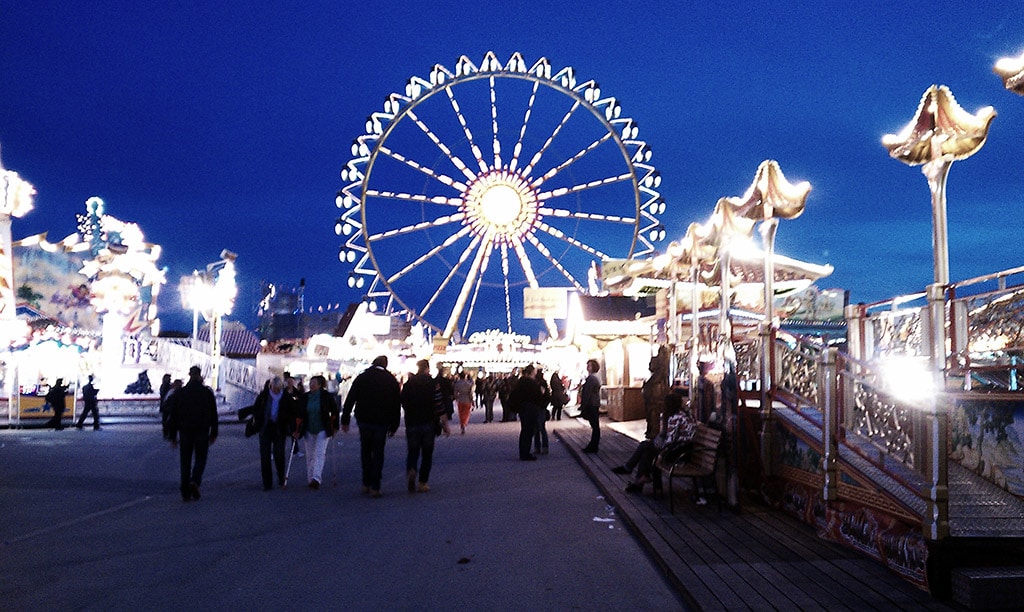 2. Perfect for spring break
Are you tired of hitting up the Caribbean each year for spring break? (Actually, don't answer that.)
What I'm trying to say is, there is more to spring break than just beaches and beer bongs. There are also beer festivals, people! It's time to level-up.
Springfest Munich takes places in late April and is a perfect spring break alternative. You've still got beer a-plenty, but throw on some traditional attire and you've got yourself some culture too. Your parents will appreciate that.
3. You can wear your tracht!
Ah yes, yet another excuse to wear your dirndls and lederhosen. You thought you would just wear them that one time for that Oktoberfest party you went to. But alas, you're finally getting some more use of them!
4. There's a cocktail bar
That's right ladies and gentlemen – Springfest Munich (Frühlingsfest) is just like Oktoberfest is many, many ways, except this one. Inside one its two beer tents you'll find a full-on cocktail bar.
If you've been wanting to experience a true Bavarian beer festival but aren't really a beer-lover, here you go.
5. Munich's biggest flea market
Each year on the first Saturday of Frühlingsfest, Munich's holds its largest flea market of the year at the Theresienwiese.
This absolutely massive event hosts more than 20,000 vendors selling to 80,000 visitors all in one busy day. And you can find just about anything you could want here: furniture, clothes, electronics, antiques, on and on and on.
Though you're probably not in the market for a new dining room set, you can't deny that you'd probably find some awesome souvenirs here.
6. Classic car show
On the first Sunday of the festival, following the gigantic flea market, is the classic car show on the Wiesn, over by the Bavaria statue. Entrance is free and you can check out tons of classic vehicles: cars, trucks, motorcycles, and more.
7. Fireworks!
Who doesn't love a fireworks show? Here at Munich Springfest they host two fireworks shows—one on each Friday night of the festival at around 10 PM.
---
If you're interested in a little Oktoberfest light, check out Munich's Springfest!
Social Share