Beer—it does a body good. That's how that old saying goes, right? I'm sure that's it. As it turns out, drinking beer does more for your body than just helping you out with those fierce dance moves. Not that that's any less important; that Michael Jackson dance contest isn't going to win itself.
Want to combine travel with healthy beer? Check out why beer tours are all the rage.
It's usually wine that gets all the good-for-you attention but it's finally beer's time to gloat. A group of Italian researchers have recently released a study stating that a beer a day will keep a heart attack at bay, but is that all? Are there any more health benefits of beer? As a matter of fact, YES! Our favourite frosty beverage is responsible for a long list of both physiological and psychological advantages, busting-a-move among them.
THE HEALTH BENEFITS OF BEER // FOR YOUR MIND
In a study conducted out of the University of Alcala in Spain, it was discovered that the silicon found in beer directly affects aluminum's ability to damage your brain. Aluminum is thought to be a major player in the development of Alzheimer's disease because of its brain damaging effects. It is also believed that Xanthohumol, a chemical found in hops, is also able to protect brain cells from degenerative damage associated with Alzheimer's and Parkinson's.
Now, I should be clear that these studies are based on the consumption of one or two beers a day. Not eight. Not fifteen. If you've ever woken up somewhere with no clue of how you got there, or with a bump on your head you don't remember getting, or with a first-place trophy from a Michael Jackson dance contest you don't remember winning, then I don't need to tell you that excessive drinking has the opposite effect on your memory. Also, high five for those sweet moves! Ow! 
THE HEALTH BENEFITS OF BEER // FOR YOUR BODY
This is where it gets really good. The high levels of antioxidants in beer really come through for us. That recent Italian study concluded that two cans of beer a day (but only one for females, figures) can cut your risk of suffering a heart attack by 25%. That's huge! However, you still need to maintain a healthy diet and get adequate physical activity. Does walking to the fridge count? That part was left out of the study so I guess interpret 'adequate' however you like.
If you'd like to interpret it as dancing your ass off, I'd have to say I agree. If this is indeed the case, you are in luck. Not only is beer proven to be better than water at post-workout hydration, it also increases your bone density up almost 5%. And that means, less fractures from moonwalks gone wrong!
In Finland, a ground-breaking study reports beer's role in preventing kidney stones by 40%. Only… they don't exactly know why, just that it does. But that's enough for me! It's believed that moderate beer consumption (defined by the experts as, again, one beer a day. Your uncle is not an expert, no matter what he says.) keeps the kidneys functioning properly and also keeps you running to the bathroom. Who knew breaking the seal could be so vital to your health?
The list of studies out there on the health benefits of beer is almost endless. Beer's ability to stave off type 2 diabetes and cataracts, lower your blood pressure and risk of developing hypertension, and reduce the incidence of atherosclerosis by 50% are just a few of the many reasons to drink beer every day. Boredom, the forced intake of Facebook photos of your friends' babies, and because you're shy are a few more. Oh, I've got plenty.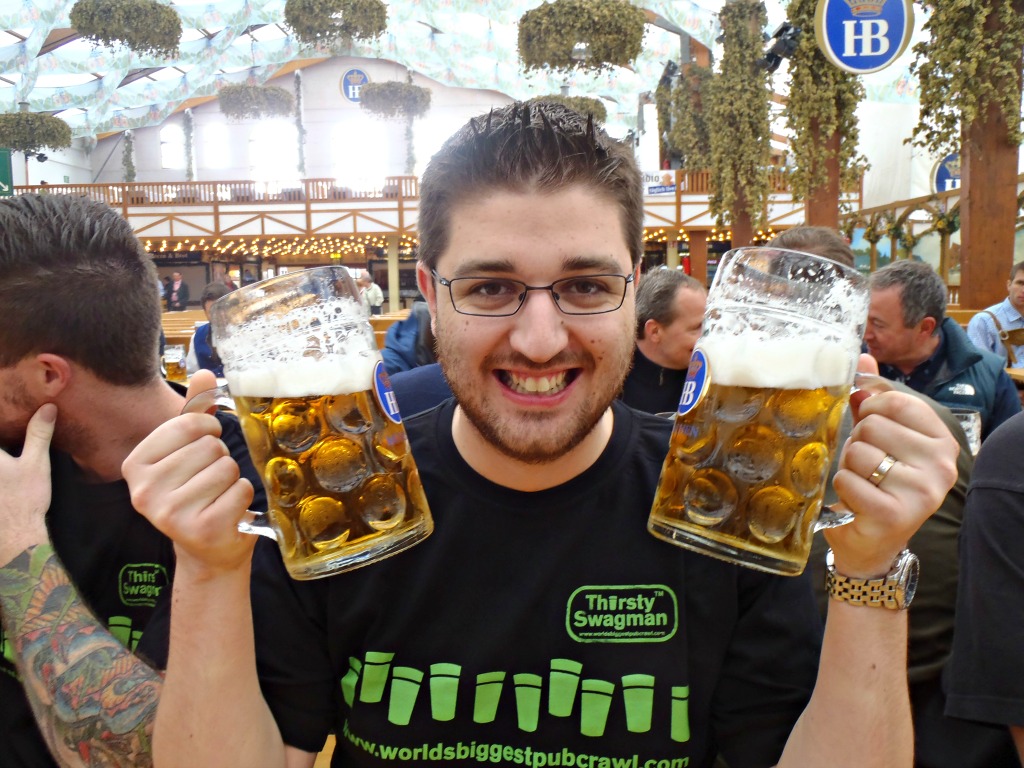 THE HEALTH BENEFITS OF BEER // FOR YOUR SOUL
If you've ever come home from work, cursed your boss, then opened a cold one, then you know the healing effects of beer on stress. This paper does an excellent job of describing alcohol's effects on stress given many variables. My favourite takeaway? Drink beer before a stressful situation for optimal benefits.
Now if you'd like to learn a health fact that (won't at all) surprise you: beer is the fail-safe cure for insomnia. I'm sure tons of highly in-depth scientific research has been done on this but really… aren't we all experts here? Stone cold deep sleep is a given after just the right amount of brew. The trick is staying awake. Now there's a research topic for ya, Doc.
And finally, if you're still not convinced beer is good for your soul, you must not have seen the Prague beer spas. You will never look at an oak barrel the same.
Skip the office visits and join us on any (or all) of our international beer tours. It's just what the doctor ordered!
Like this article? Pin it on Pinterest! ↓↓↓
Social Share