For a great time at Oktoberfest in 2022, you'll want to embrace it all, welcome every aspect of the festival with open arms. The singing and prosting! The traditions and camaraderie! The beers and brats! The big piles of horse manure outside the beer tents!
Well, OK, maybe there are some things at Oktoberfest that should actually be avoided at all costs.
Though you should be open to experiencing everything the world's largest beer festival has to offer, you will need to pump the brakes every now and then. For more on that, here are 14 things to avoid at Oktoberfest in Munich.
1. Trying to drink 10 liters of beer before noon
Oktoberfest is a marathon, not a sprint. And never before has a metaphor had such meaning!
The beer tents are open for more than 12 hours each day and the beers are BIG, not to mention a higher alcohol content than you're probably used to. Take your time, pace yourself. You'll get to where you want to be, trust me.
Otherwise, there's a good chance you'll be asleep in your hotel bed before the sun even reaches its peak. And that's only if you've got friends willing to carry you there.
2. Wearing a costume
I'm not talking about the traditional tracht you're expected to wear like dirndls and lederhosen. This specifically refers to costumes you think are hilarious, but will actually get you kicked out of the beer tents or refused entry altogether.
Random Halloween character costumes and the ever-ridiculous "Carry Me to Oktoberfest" costumes are the biggest offenders. One year I saw security kick out a guy dressed at Jesus. Just stick to tracht.
3. Buying "tickets" to Oktoberfest
News flash! Oktoberfest is a totally free event (if you don't eat, drink, ride rides, or buy souvenirs). Getting into Oktoberfest and into the beer tents is 100% admission-free. Don't let any ol' stranger on the internet sell you "tickets" to Oktoberfest.
If you're thinking about Oktoberfest tent reservations, that's a whole other thing. (And still illegal to purchase from a third party.) For more on how to get those, check out our page on everything you need to know about Oktoberfest reservations.
4. Slamming your mugs together
Those maß may be serious business but that doesn't mean slamming them together with gusto won't cause some real damage. Broken glass flying through the air + thinned blood is not a winning combination.
I know, I know, you're just so damned excited to prost! Just know the beer mugs aren't entirely indestructible.
Fun Things to Do at Oktoberfest Besides Drink Beer
5. Waiting until the last minute to plan your trip
Oktoberfest is the biggest festival in the world with over 6 million people attending every year. That means there's a huge lack of available hotel rooms and other resources. The longer you wait to plan your trip, the less chance you'll have of finding affordable accommodations, available transportation, etc.
Typically people start planning for Oktoberfest at the end of the previous one. At the very latest, you should have your trip planned by March.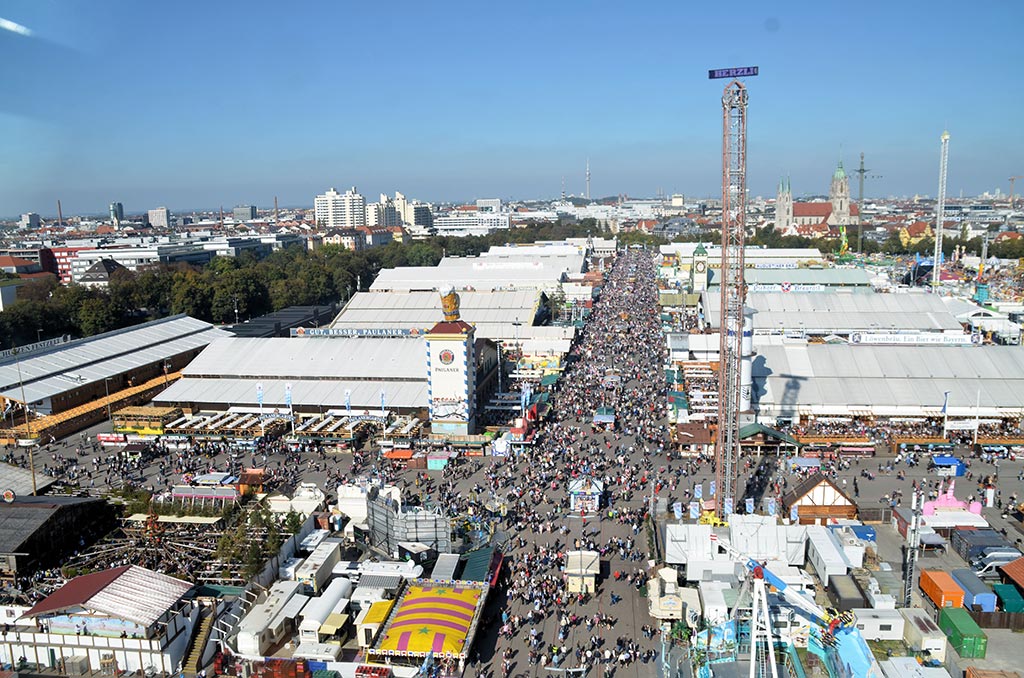 6. Staying far away from the Theresienwiese
The closer your hotel is to the Wiesn, the better – and we cannot stress this enough. Getting there in the morning is one thing and will probably be pretty easy given Munich's efficient transportation network.
Getting back to the hotel after a handful of liters is a completely new challenged you are certainly not prepared for. Especially when there are multiples train transfers and street names in a language you can't read.
Staying at a hotel that's just a 5-minute walk from the beer tents is the most valuable piece of advice I can give. (Thirsty Swagman's Oktoberfest tours always stay at hotels within just a few minutes' walk of Oktoberfest.)
7. Standing on the tables
Inside the beer tents, you're welcome to stand and dance on the benches all you want. But standing on the tables themselves will get you swiftly into trouble. Not to mention the inevitable human domino situation I see way too often.
8. Using your credit card at Oktoberfest
Lesson number one in getting a beer at Oktoberfest = bring cash. The beer tents are cash-only for the most part and without any your liver is going to be dry as a bone.
Get cash before you leave your hotel or at the airport when you arrive. Oktoberfest does have ATMs on site but whoa you've never seen ATM fees so high in your life.
9. An empty stomach
And eat you must! Eating is so, so important where liters of beer are concerned. Do not forget to order food at some point (hopefully a few times) during your day in the beer tents. This will help that whole marathon/not needing to be carried back to your hotel thing we talked about earlier.
The food at Oktoberfest is so good, with huge portions, and can be found all over the park—not just in the beer tents. You can get complete meals, a full range of snacks and sandwiches, and there's even a dessert tent if you feel so inclined. (It's the one that looks like a giant gingerbread castle. Oktoberfest truly is magical.)
10. Eating the lebkuchenherzen
However, one thing you most definitely do not want to eat are the heart-shaped gingerbread cookies you'll see everywhere. They're pretty and they are part of the tradition, but they are not tasty. Sure they're technically edible, but these cookies are primarily for decoration and they are NOT GOOD.
I know you're going to forget all about this after you're six liters in and looking for a snack—just don't say I didn't warn you.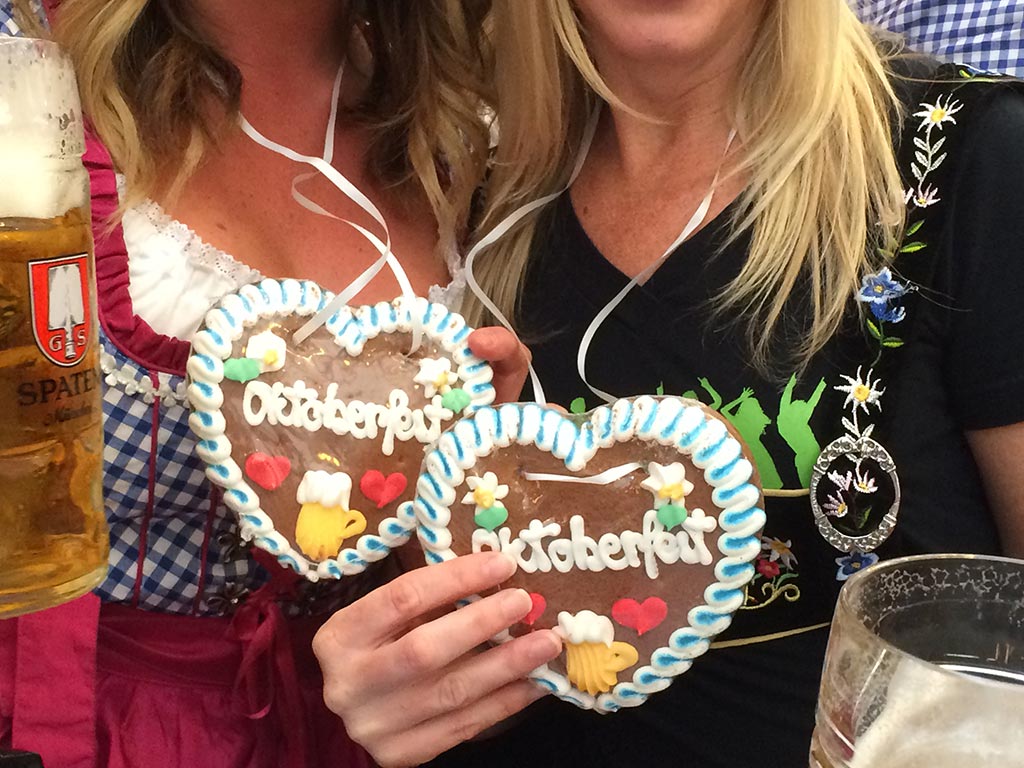 11. Asking for a small beer
There's only one size of beer at Oktoberfest and it's large as hell. Don't even think about asking for a "small beer." I've never seen it myself and I'm not sure what would happen if you did, but I'm sure it ain't good.
In the beer tents they serve beer by the liter only. This is known as a maß (or mass).
12. The grassy hill
The grassy hill behind the beer tents (also known as Puke Hill by some) may look like an enticing place to take a nap, I guess? Well, it's not. As its nickname suggests, this is often the site of many visitors'… we'll call them illnesses. Why people nap here is beyond me.
The large patch of grass may look harmless, but you'd be better off sitting just about anywhere else.
13. Going to Oktoberfest alone
Oktoberfest is so much more fun when you go with a large group of like-minded drinkers. If none of your friends are able to head to Germany with you, have no fear! Oktoberfest tours are here!
Many of our Thirsty Swagman Oktoberfest tours are taken by individual travelers who still want to experience the world's largest party. Join one of our tours and you'll never party alone!
14. Horse Manure
To reiterate, yes, you should definitely do your best to avoid the horse manure.
During the day, the breweries park their beautifully-decorated horse-drawn beer carriages outside the tents in the center of the Wiesn.
At some point you'll want a photo op, or just need to squeeze by them to get to the tents. But beware that they are standing there for roughly four hours at a time. If you're not careful, you could accidentally add some poo to your shoe.
Like this article? Pin it on Pinterest! ↓↓↓
Social Share