Because a year is too long to wait between Stuttgart Beer Festivals in the fall, we bring you: Stuttgart Springfest (known in Germany as Stuttgarter Frühlingsfest)!
Frühlingsfest in Stuttgart is what you could call a miniature version of the Cannstatter Volksfest—Stuttgart's version of Munich's Oktoberfest. There are beer tents, traditional outfits, dancing on benches, and all the hulapalu you can get into!
Our Springfest tours to Stuttgart are coming 2025. Can't wait that long?
Check out our Springfest Munich tours here.
Stuttgart Spring Festival (Frühlingsfest)
On this page you'll find all the details you need to party this spring.
Where is Stuttgart Springfest?
Stuttgart Springfest takes place annually in Stuttgart, Germany at what locals call the "Wasen." The Wasen is the large festival area that's located on the northeastern edge of the city.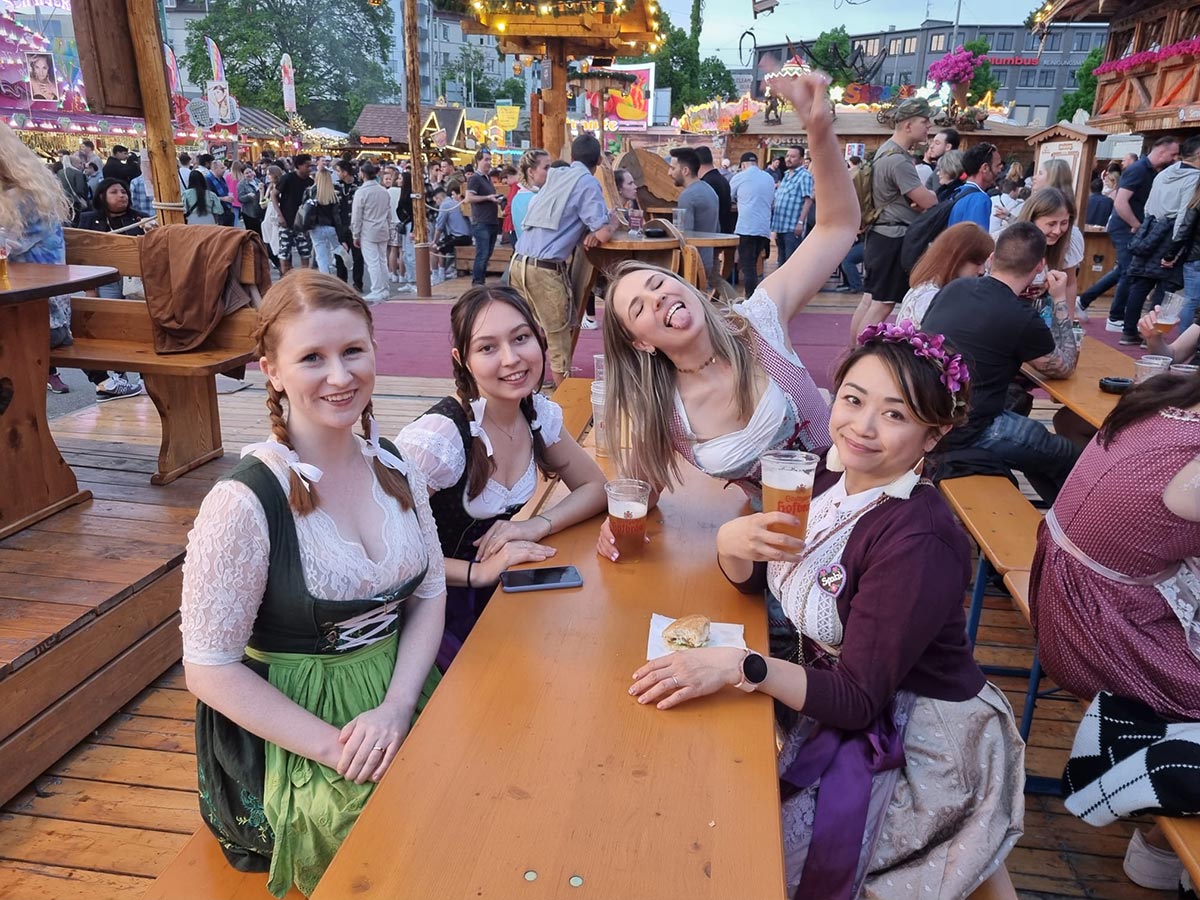 When is Spring Festival in Stuttgart?
Stuttgarter Frühlingsfest takes place each year on dates that range between April and May. (So each year the dates are different; be sure to double check the latest ones before you plan!) But the best part is that it actually lasts a whole three weeks!
Stuttgart Springfest 2024 will take place from April 20 to May 12.
Tickets & Reservations
Just like the Stuttgart Beer Festival in September, Stuttgarter Frühlingsfest is also free to attend. By that we mean, there is no admission fee to enter nor do you have to pay for entry into the beer tents. There are no such things as Stuttgart Springfest "tickets."
And because this festival is still relatively under-the-radar, beer tent reservations aren't extremely necessary here. But if you do want to grab some, beer tent table reservations can only be made for full 10-person tables, and only by directly contacting the beer tent owners. See each festival's official website for more information.
Stuttgart Springfest Beer & Tents
At Stuttgart Springfest you'll have your choice of five large beer tents at which to get your party on. Those tents include:
Depending on which tent you choose, your liter mugs will be filled with either:
Dinkelacker Wulle Biere
Stuttgarter Hofbräu
Schwaben Bräu
Stuttgart Springfest Food
You can expect the same great food at Stuttgart Springfest that you would Cannstatter Volksfest or any of the Munich festivals.
From amazing chicken dishes in the Göckelesmaier tent to rustic pork and sausage platters in the Grandls Hofbräu Zelt, and even to savory Tyrolean specialties in the Almhüttendorf, you'll easily be able to soak up all the beer in the most delicious way possible.
Stuttgart Springfest Events
In case three weeks of drinking and dancing isn't enough, the festival offers even more. While you're here at Stuttgarter Frühlingsfest, don't miss:
The Traders' Market – At Stuttgart Springfest you can visit the on-site flea market with more than 50 vendors selling everything from clothing, gifts, jewelry, home goods, and much more.
Family day every Wednesday – Discounted prices on rides and attractions all day, clowns, hands-on activities, and a children's train are just a few of the features.
Meet Wasenhasi – The official Stuttgart Springfest mascot is always walking around the Wasen.
Stuttgart Springfest: How to get here
Getting to the festival is easy via just about any mode of transportation you prefer. Here's how to get here:
By air – Stuttgart has its own airport (STR) that's served by many of the smaller airlines. Otherwise, flying in and out of Frankfurt (FRA) is better for international travelers and is just a short (1h 20m), direct, high-speed train ride from Stuttgart.
By land – Stuttgart is also easily accessible via bus and train from just about anywhere in Europe. When booking your travel, be sure to use "Stuttgart Hauptbahnhof" as your final destination.
Traveling within Stuttgart
Once here, traveling within Stuttgart is as easy as hopping on a local train or calling a quick taxi. The Wasen festival grounds even has its very own train stop, right at the main entrance.
Stuttgart Frühlingsfest Atmosphere
As you might expect, the festival has a similar atmosphere to other German beer festivals like Munich's Oktoberfest or the Stuttgart Beer Festival.
Traditional Bavarian trachten is worn by many (even though this isn't Bavaria… it's complicated) and the familiar German beer tent music is played all day and night (both the more traditional stuff and the party tunes).
Everyone dances on the benches, they Prost! their liters after singing Ein Prosit, and the entire experience is consumed by a general sense of Gemütlichkeit.
Visit the official Stuttgarter Frühlingsfest website here.