Of all the German beer festivals out there (and there are many), Oktoberfest Munich is the biggest, baddest, and most famous of them all. It's the Dwayne "the Rock" Johnson of beer festivals, if you will. Millions of people attend the "world's largest beer festival" each year from all over the world and drink millions of liters of beer. Needless to say, it's a party on the most massive of scales.
Let's get to know it a little better, shall we?
How did Oktoberfest start?
Oktoberfest in Munich started wayyy back in the 1800s and was quite unlike the dancing-on-benches festival we all know and love today. The very first Oktoberfest (which it wasn't even called back then) was actually the wedding celebration of King Ludwig I and Princess Therese on October 12th 1810. Fancy as those folks may have been, you can't deny that a 210+ year wedding reception is pretty badass. And to that, we prost!
During that particular celebration, the citizens of Munich were invited to party as well and they just never wanted it to end. The "Oktoberfest" tradition has carried on ever since and for that we are ever gracious. Shall we curtsy to the happy couple? Yes, we shall.
Between 1810 and today, Oktoberfest has taken place every year with the exception of only the 25 times Oktoberfest has been cancelled.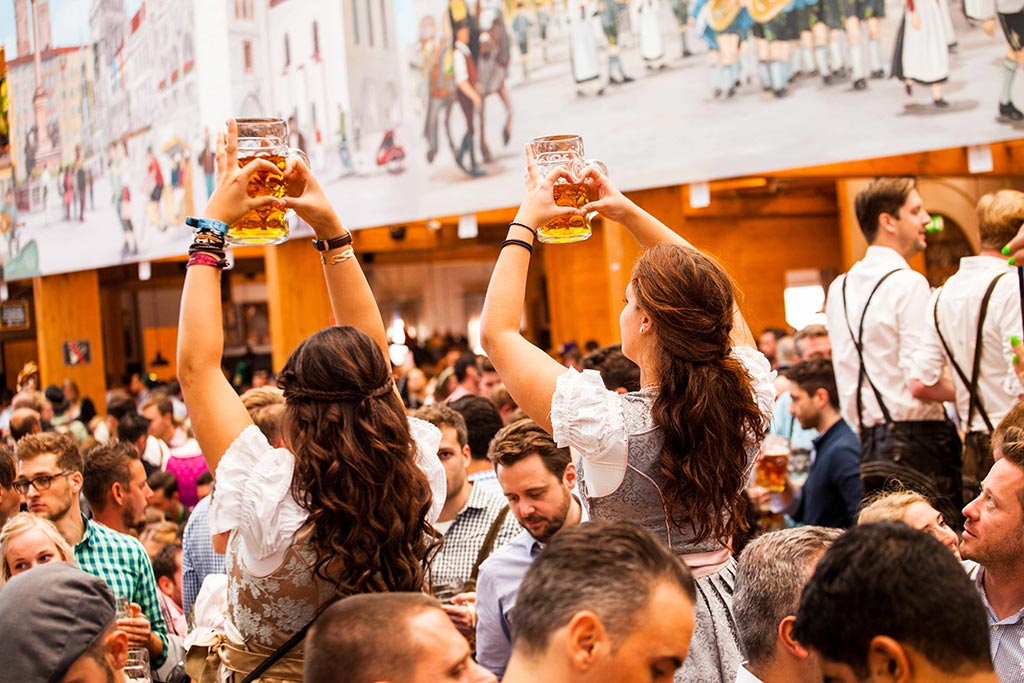 When and where is Oktoberfest 2024 & 2025?
The world's largest beer festival, Oktoberfest, takes place each year from mid-late September to early October. Yes, the majority of Oktoberfest is actually in September. Bazinga.
The festival lasts from about 9 AM to about 10:30 PM each day (times vary by day) for 16 straight days, though some years you get a bonus!
It takes place in Munich, Germany on the grounds of the Theresienwiese, known locally as the Wiesn, which translates to "Therese's Meadow." An ever-lasting beer festival and a park named after her? What wedding registry did she sign up for?
The Wiesn (pronounced Vee-zin) is a large fairgrounds/park just outside Munich's city centre. The beer tents, rides, and all other buildings and structures association with Oktoberfest are reconstructed each and every year. Then, deconstructed after festival's end.
What are the next Oktoberfest dates?
The next Oktoberfest will take place in 2024 as below:
Oktoberfest 2023: Saturday, September 16th – Tuesday, October 3rd (extended)
Oktoberfest 2024: Saturday, September 21st – Sunday October 6th
Oktoberfest 2025: To be announced
Check out Munich's #1 Oktoberfest Packages here!
Why is it called Oktoberfest if it's in September?
Well, if you remember the date of the most epic wedding celebration in Bavarian history, the original "Oktoberfest" did take place in October.
However, towards the end of the 19th century as the festival had grown in both size and popularity, the festival was shoved forward into Saturday, September to take advantage of longer days and warmer weather. Simple as that.
By then, they must've felt it was too late to change the name. Besides, "Septemberfest" sounds more like an auto dealer's seasonal promotion than it does a massive keg party.
Is Oktoberfest 2024 in Munich free?
Well, yes and no.
There is no admission cost to get into Oktoberfest 2024 or 2025. Entering the festival and the Wiesn is completely free—no tickets whatsoever are required.
There is also no admission cost to get into the beer tents. You can just walk right up into a beer tent, no tickets, no fees, no guests lists needed.
The only stuff you pay for at Oktoberfest are the (many) beers you drink, the (delicious) foods you eat, the (please do this before you start drinking) rides you ride, and the (absolutely necessary) souvenirs you buy. And how much you spend on all of that is up to you.
Will I need reservations for Oktoberfest 2024?
Oktoberfest in Munich, Germany is free and all, but will you need reservations? And again, the answer is… yes, and no.
To attend Oktoberfest 2024 you don't necessarily need reservations. If you're attending with a small group, finding seats together in a beer tent (at a reasonable hour) won't be difficult. If you're attending with a larger group, or are looking to party on a Friday or Saturday night, beer tent reservations sure as hell would be nice to have.
When you reserve a table at Oktoberfest 2024, you have to reserve the entire 10-person table. That's not to say three of you couldn't just sprawl out and enjoy some breathing room, but you'll still be required to buy beer and food vouchers for all "10" people. See the dilemma? (Oh, you don't consider drinking the amount of beer intended for 10 people a dilemma? Nevermind.)
If you visit Oktoberfest 2024 during the most manageable times (during the day, on a weekday), chances are you won't need a reservation. For more on what you need to know about this topic, head to our page on Oktoberfest reservations.
Check out Munich's #1 Oktoberfest Packages here!
What beers are served at Oktoberfest in 2024?
At Oktoberfest Munich Germany you'll only find beers from Munich's 6 main breweries, the strict way it's always been:
Augustiner
Hacker-Pschorr
Hofbräu
Löwenbräu
Paulaner
Spaten
And if a governing body is going to be super strict about anything, it might as well be about drinking the best beer this is.
You'll drink festbier–a marzen-style lager brewed especially for Oktoberfest 2024. This beer is light, crisp, delicious, and stronger than you might expect. (Drinker beware!) These beers range from about 5.8% to 6.3% ABV, depending on which brewery you're drinking.
At Oktoberfest, festbier is the king of beers. However, at some Oktoberfest beer tents you can find hefeweizen as well.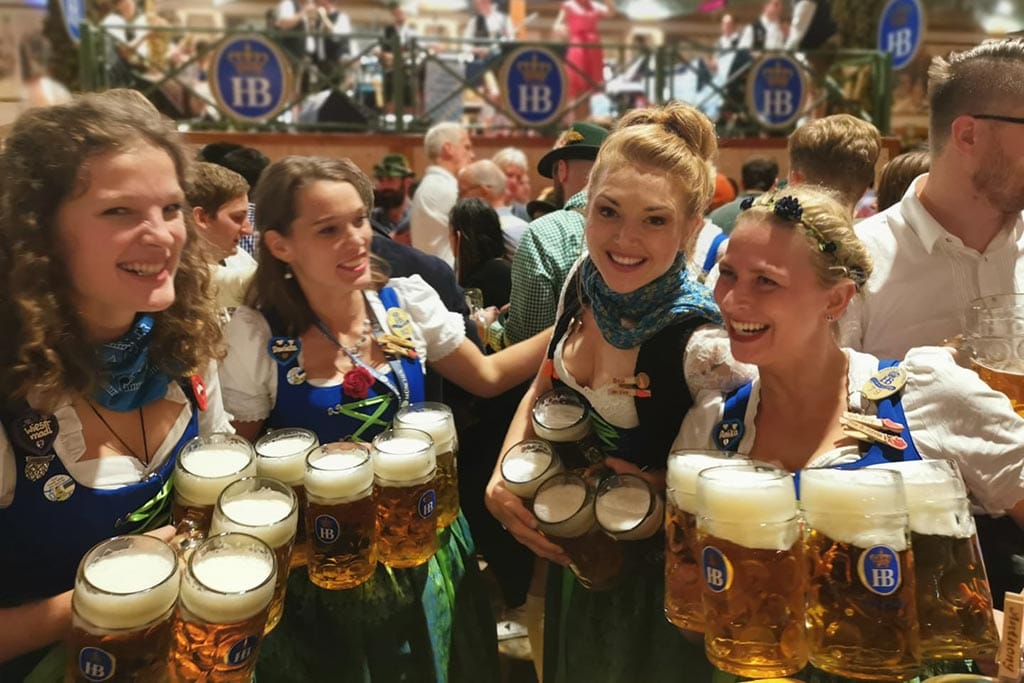 What food is served at Oktoberfest 2024?
Eating is a big part of the Oktoberfest 2024 experience. Oh, you forgot to eat? You're definitely not the first but you'll learn your lesson faster than you can say handschuhschneeballwerfer.
When the beers are as big as they are at Oktoberfest, you need just as huge a meal. And you're in luck! You definitely won't go hungry on the Wiesn.
Inside the beer tents you can expect to find traditional Bavarian sit-down meals like pork knuckle, roasted half chickens, oxen, bratwurst platters, and more. You'll also be able to pick up quick snacks like huge Bavarian soft pretzels and sausage sandwiches.
Out in the Wiesn you can get items like brats, sandwiches, candied almonds, fish on a stick, and just about anything else you could want. But the most important thing about Oktoberfest food is Don't Forget To Eat Food At Oktoberfest!
For more on the savory side of Oktoberfest, check out our guide to Oktoberfest food here.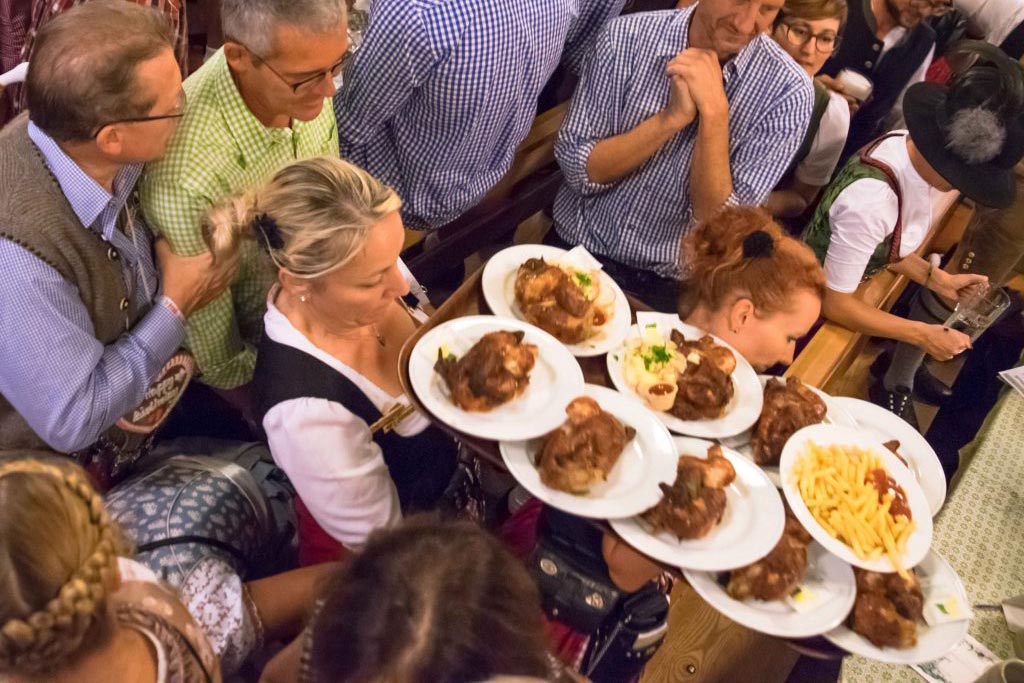 What do you wear to Oktoberfest?
Most people attending Oktoberfest choose to wear traditional Bavarian outfits, whether they are traditional Bavarians or not. This is not mandatory, but it is a very popular practice.
For men, this means lederhosen: at its very basic we're talking leather shorts, white or checkered shirt, knee socks, and loafers. For women, the dirndl is where it's at. A dirndl consists of a dress, a white blouse, and an apron, though styles can vary wildly.
The outfits are simple but there's a lot that goes into them. (Here's a guide to dressing for Oktoberfest for the ladies.) You can buy all this stuff in Munich when you get there, or you can buy online ahead of time. There are pros and cons to both. (Here's a guide to buying a dirndl online.)
The most important part of how to dress for Oktoberfest is that you're comfortable, clothed, and none of your drinking muscles are hindered. An empty belly is the best accessory!
What is there to do besides drink beer?
Besides beer drinking, there's still much to do at Oktoberfest 2024 and 2025. (But don't forget about your main objective, beer soldier!) There are special events like:
Official and unofficial opening and closing ceremonies
Family days
Traditional parades
Gay Sunday events
A traditional religious mass inside the beer tents
Celebratory concerts
Even a crossbow shooting contest
and more
There's also a plethora of Oktoberfest rides that we hope you take into consideration before you get into the beer-drinking portion of the party. Roller coasters, Ferris wheels, drop towers, slides, swings, and the infamous Devil Wheel, to name a few.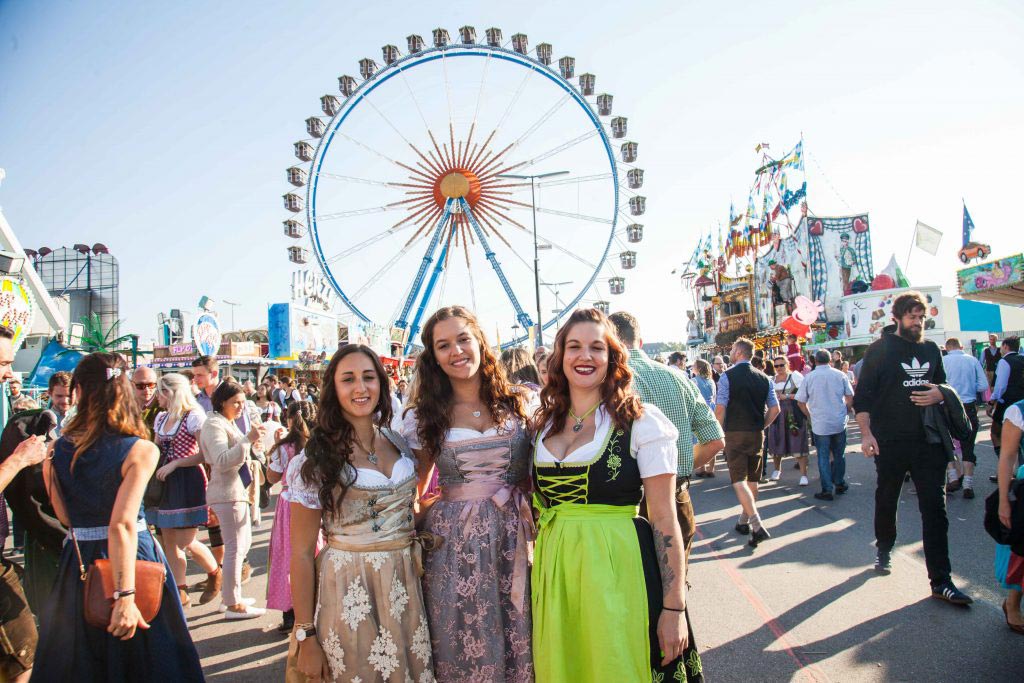 Think you're ready to experience Oktoberfest Munich?
Check out all of our Oktoberfest tours and pick the one that's right for you!
Like this post? Pin it on Pinterest! ↓↓↓