Do you like beer? Do you like to travel? Then you'll love beer trips.
Because let's face it, everyone loves a vacation and beer is the nectar of the Gods. Combine the two, and you get the perfect match: a great vacation sipping beers with fellow thirsty travellers.
What are Beer Trips?
While there are various forms of beer trips, like those that take travellers to beer festivals and multi-destination tours to famous beer destinations, what they all have in common is that they involve travel to some of the best beer destinations and events where you can sample some of the world's best brews with other beer lovers and intrepid travellers from around the world.
Check out these amazing beer adventures
A good beer trip will of course mean consuming a variety of that beautiful liquid amber, and this is best done in the company of other beer enthusiasts. It's those fellow thirsty travellers that will make it a truly amazing travel experience.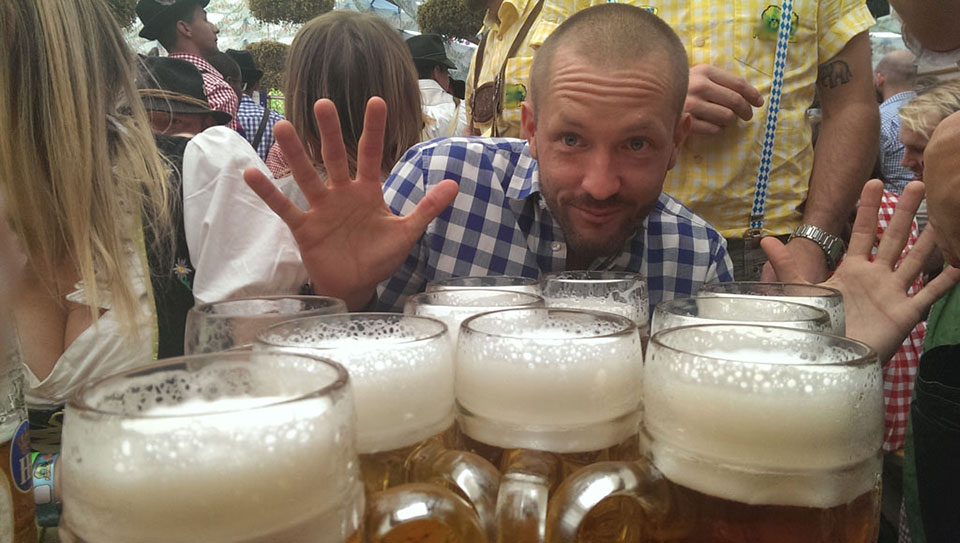 These are those vacation of a lifetime – made better with beer.
So what's wrong with going to my local bar?
Well, chances are wherever you live there's a brewery nearby these days. Micro-breweries are everywhere and all the rage, and the latest trend is nano-breweries . Beer production is coming to a town near you, so you don't even need to travel far to enjoy a good drop.
Life, however, would be pretty boring if you never ventured far. And some of the best memories are made when you're at some place you've never heard of in a pub or bar, meeting fellow beer connoisseurs.
This is where beer vacations come in. They are the best of both worlds, uniting people over the love of a great brew in exciting and interesting destinations.
So what makes for a good Beer Trip?
At Thirsty Swagman we've got this down pat because that's what we do: epic beer trips. Zero boring sightseeing tours, no mundane trips to a touristy landmark – just the world's coolest party tours, beer vacations and festival tours.
So if you're into beer travel, then here are some tips for your next adventure:
Visit at least 2 or 3 different pubs & bars a day. If you're booking a group tour, a good tour operator will have this covered (that's what you're paying them to do!). If you're travelling solo or with some friends, you'll find that most cities and many smaller towns offer some kind of walking tour to a variety of local bars. Some are even free; tip them generously for they are doing a service to humanity! You'll meet other beer connoisseurs on these tours, and the groups are usually small (about 10 to 20 people) making it a great opportunity to meet other travellers interested in beer.
Planning your own itinerary each day? Then a great way to find some cool watering holes is to have a beer or 3 at one and ask the bar staff or some locals if there are other good bars in the area. Go there and repeat the process.
Choose good accommodation. Remember you're on a beer trip, so chances are you'll be necking a few every day. There's nothing worse than getting woken up at 6am because you're sharing a room with 10 other people, or staying at a dive where you can hear the neighbours packing their suitcase (or engaged in other noisy activities).
A good hotel close to where the beer taps are flowing is worth every cent and it comes with the added benefit of safety – beats walking for miles through winding alleyways.
Find some good beer destinations. Drinking beer is like a finding a life-long partner. When you first start off, you'll sample the wares and will probably make some pretty embarrassing mistakes. But in the end, you hopefully learn from your mistakes and get it right in the end… well hopefully.
But just like the search for your life long partner, your chances of finding the perfect beer are greatly improved if you go to the right places. That's why choosing the right destination can be essential for the  best beer vacations. With so many top beer destinations to choose from  we've provided a few recommendations below of our personally sampled favorites.
Where do I go for Beer Trips?
While some great brews can be found almost anywhere these days, Europe is the obvious destination to tick off your beer trip bucket list.
Europe Beer Destinations
Obvious choices include Germany's major beer festivals, Oktoberfest Tours in Germany and the Stuttgart Beer festival however Belgium, the Czech Republic and Ireland are also synonymous with great bars and pubs serving some of the best beers. Not as well know but equally as good in our opinion are:
Reykjavik in Iceland, where beer was actually illegal until 1989 (the craft beer scene has exploded there since)
Copenhagen in Denmark, boasting the most micro-breweries per capita in Europe since 2005
Kraców in Poland, where beer is less than 1 Euro a pint (yes, you read that right)
USA Beer Destinations
Micro-breweries took off in the USA and they make some of the best beers in the world today. And there's something about Portland:
Portland in Maine, which ranks as the best city for beer drinkers on the strength of its 17 breweries (in a city with just 66,000 residents)
Portland in Oregon,with more breweries and brewpubs of than anywhere else in the USA (68 in 2016)
Austin in Texas, host to several bars with over 100 beer on tap (just Google "Bangers in Austin" for a sample)
Australia & New Zealand Beer Destinations
Melbourne in Australia, with its host of river bars and hole-in-the-wall pubs is considered to have Australia's best pub scene
Queenstown in New Zealand, which boasts the most number of pubs and bars per capita in the Southern Hemisphere
Sydney in Australia, home to the world's first beer you can drink in space (there is such a thing!)
To truly appreciate the world's best beer trips though, you don't need to limit your self to these great beer destinations. Some other options that you wouldn't traditionally associate with beer, such as Japan and China, are experiencing a beer revolution with micro-breweries springing up everywhere. So the world really is like a well-stocked bar; full of choices for the thirsty travellor.
There's no need to limit beer to just part of your vacation; instead, make it your vacation. After all, nothing says vacation more than sitting back without a worry in the world and sipping an ice-cold beer.
We'll cheers to that!
Check out some of our amazing beercations here, and get your thirst on for adventure.