Drop and give me twenty… ounces of merlot, that is!
I believe I'm legally obligated to preface this article with something along the lines of I'm not a health professional and to take any medical advice from me at your own risk (which you should've already figured out from this post). BUT, I'm about to tell you to skip the gym and drink wine instead so, let's face it, you're going to do that regardless of the degrees I possess, like the responsible adult that you are.
Red wine equals gym time!
Thanks to Jason Dyck and some research completed at the University of Alberta, we now know that drinking a glass of red wine a day is THE SAME AS A ONE-HOUR GYM SESH. You heard me, folks. So go ahead and kick off those trainers and pour yourself a glass of exercise 'cause it's about to get sweaty lazy up in here.
[Pause for applause.]
How's that possible?
And whom can you make your thank you cards out to? That would be Resveratrol, the compound found in red wine responsible for its health benefits. According to the Alberta study, the resveratrol found in the skin of grapes, and thus red wine, has the ability to improve physical performance, heart function, and muscle strength. The physiological results of drinking one glass a day mimic having spent one hour working out. I know, right…
In addition to allowing you to skip the Stairmaster, resveratrol also regulates blood sugar levels and fights aging, all while making it less likely you'll develop dementia or cancer. (So when can we get this added to Rice Krispy Treats??? That would really help me out, thanks.)
This is good news for those who are physically unable to exercise but still need the physical benefits. This is great news for those of you who are just plain exhausted after work and are too lazy to even walk upstairs to change your clothes. But, to rain on my own parade here, this only works for ONE glass of red wine. Three glasses does not equal three hours of exercise. Nice try though.
So you still want to work out? First of all, GOOD FOR YOU! Second, one glass of red wine a day can also increase the effectiveness of your actual gym sessions for all the same reasons listed above.
One thing though…
That study by the University of Alberta… yeah… it was done on rats, not human people. At least, not officially. (But if anyone wants to get an experimental group together, you know where to find me.) So we all know what this means, right? That wheel in your rat's cage is worthless. Give the little fella what he really wants–a dropper of Chianti.
Tell me more!
Red wine isn't only good as an excuse to skip boot camp. It's also the most calorie friendly alcoholic beverage out there and is high in antioxidants (responsible for a plethora of health benefits including the prevention of heart disease and lowering of bad cholesterol). Also, red wine reduces the levels of bad bacteria in your mouth. So the next time someone judges you for stashing cabernet under your bathroom sink, tell him or her I said it was okay. And that I'm expert-ish.
Like this article? Pin it on Pinterest! ↓↓↓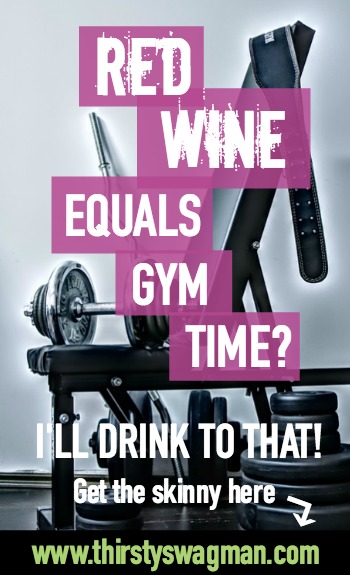 Social Share