Sure, Oktoberfest in Munich is known as the world's largest beer festival. And sure, beer-drinking is, by far, the most popular activity there. However! That doesn't mean drinking beer is the only thing to do there. You'd actually be shocked by how many people seek out other, drier activities.
And if you're one of them, even if you pretend not to be, we have this list of fun things to do at Oktoberfest besides drink beer.
1. Eat, eat, eat!
Oktoberfest may be known as a "beer" festival, but in reality it's a festival honoring all things Bavarian—culture, music, dance, beer, dress, and especially FOOD.
The list of delicious Bavarian food you can get at Oktoberfest is endless. Stuff like: sausages galore, roast chickens and fish on a stick, giant pretzels, dumplings, soups, noodles, schnitzels, roast ox, candied nuts, and decadent desserts.
And the best part? You don't have to be drinking beer inside a beer tent to enjoy them! All around the Wiesn you'll find food vendor stalls and small food tents where you can purchase just about anything you could ever want to eat. They even have a pretty decent selection of vegetarian and vegan options, believe it or not.
2. Check out the amazing views from the Ferris wheel
Oktoberfest's Ferris wheel is a feat of engineering and is one of the largest transportable giant wheels in Europe. It takes you 50m up (164 feet) over the Wiesn for incredible views of Munich's landmarks, the Oktoberfest beer tents and crowds, and the snowy Alps on the other side.
And unlike typical Ferris wheels that take you up and over on one verrrry slow rotation, this one takes you around many times at a much faster rate. It's not exactly a thrill ride, but it's not your grandmother's Ferris wheel either.
It's the absolute best way to get a full view of the Oktoberfest grounds. Plus, you can get half price tickets on Tuesdays (Family Day).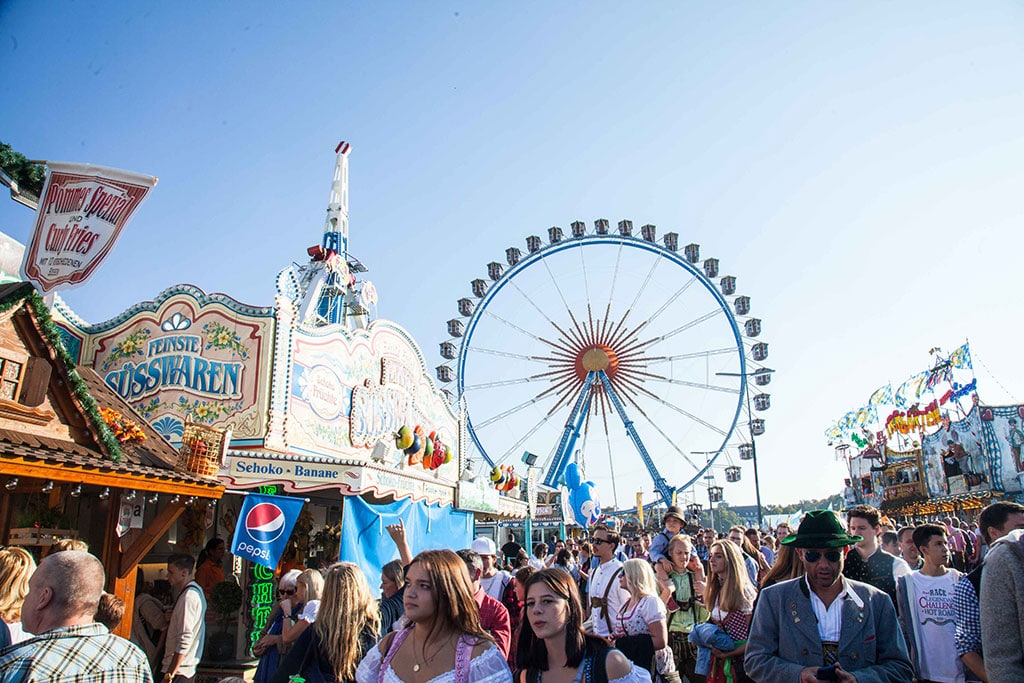 3. Ride some other rides (or at least watch)
There are actually a ton of thrill rides at Oktoberfest—way more than you'd expect to find at a festival dominated by beer consumption—but somehow it works.
The most popular rides are:
Chair carousel where you fly over Oktoberfest on swings
The Toboggan, which is much more fun to watch than to attempt it yourself
The world's tallest free-fall tower
The largest transportable roller coaster in the world
The Devil's Wheel – endless entertainment for all
And many, many more!
*Word to the wise: rides first, beer last
4. Check out a parade or two
During the first two days of Oktoberfest there are two grand parades and everyone is welcome to watch!
Oktoberfest opening day parade
The parade on opening day is known as the parade of the Wiesn landlord and breweries and officially marks the start of Oktoberfest. It features the beer tent landlords and representatives from Munich's big 6 breweries, all riding their impressive horse-drawn beer carriages, and is led by the Oktoberfest mascot, the Münchner Kindl. It winds through Munich and ends inside the Wiesn, all leading up to the tapping of the first keg.
Traditional Costume and Hunter's Parade
The following day, always the first Sunday of Oktoberfest, is the Traditional Costume and Hunter's Parade. Now that festivities have officially kicked off, 9,000 participants parade through Munich. Traditional costume wearers, hunting clubs, mountain troops, marching bands, and more from around the world participate in this dazzling parade.
5. Meet the horses
Just about every day of Oktoberfest you are able to meet the breweries' carriage-pulling horses on the Wiesn. You'll hear the carriages arriving to Oktoberfest early in the morning and they typically leave around 2 PM.
In between, you can find them parked outside their respective beer tents for the perfect photo ops. (Just watch where you step.) More info on when and where to find the Oktoberfest horses here.
6. Check out the traditional Bavarian brass band concert
On the second Sunday of Oktoberfest, all the brass bands from the beer tents gather together at the foot of the Bavaria statue for a free concert, all conducted by the mayor of Munich.
7. Do some shopping
Oktoberfest and the Wiesn is the absolute best place for Oktoberfest and Munich souvenirs. Even if you don't plan on hanging out, because the Wiesn is free to enter you can stop by any time to pick up what you need: toys, posters, mugs, clothing items and accessories, giant gingerbread cookies with your name on them, whatever!
8. Send some mail
And for the souvenirs that you're sending back home, you can do so from right here in the Wiesn.
Yes, Oktoberfest has its very own post office. You can buy postcards, other souvenirs, stamps, and more inside and then send all your stuff directly from there. Each outgoing piece gets a unique Oktoberfest cancellation stamp. It's cool, okay?
9. Win some prizes
Like any great carnival-style party, Oktoberfest also has its fair share of midway-type games. There are shooting games, strongman games, and many other games of chance.
10. People watch
But honestly, the most fun of all the things to do at Oktoberfest besides drink beer is plain ol' people-watching. Maybe you don't drink beer, but plenty of other people drink plenty of it.
You can post up just about anywhere and enjoy. You can even grab some popcorn for the occasion. The best spots for people watching at Oktoberfest are on the steps of the Bavaria statue and over by "Pass Out Hill," but really the entertainment is all around and well worth a visit to Oktoberfest in and of itself.
Ready for non-beer Oktoberfest fun? Join one of our

Oktoberfest tours

now!
Save this info, pin this post on Pinterest!
Social Share