We've learned that if there's anything Germany does well (there are many things actually), it's beer festivals. Perhaps you've heard of Oktoberfest—the world's largest, craziest party? Or the Stuttgart Beer Festival—the world's second largest?
But have you heard of Gäubodenvolksfest (commonly referred to as the Straubing Beer Festival)—the new kid on the block? And by 'new' I mean it's a whole two years younger than Oktoberfest. Regardless, chances are it's new to you!
The Straubing Beer Festival takes place in Straubing (hence the name), just 1.5 hours from Munich, and offers the same incredible Bavarian food, beer, rides, and fanfare you've come to expect, but with a twist of its own.
If you've already "been there, done that" with Oktoberfest and Stuttgart and are looking to try something new, I bring you 8 more reasons to check out Gäubodenvolksfest in Straubing, Germany.
1. It is one of the largest and most popular beer festivals in Bavaria
Bavaria, the "hostess with the mostess" we shall call her, is home to countless beer and folk festivals. Second only to Oktoberfest, the mother of them all, the Straubing Beer Festival tops all the others in terms of popularity and annual attendance.
2. But Gäubodenvolksfest is much more manageable
Even though Gäubodenvolksfest is one of the biggest and best beer festivals in Bavaria, don't let that overwhelm you. It's the second biggest, yes, but attendance over the course of the whole festival is just about 1.4 million.
With just 1.4 million people spread out over a week and a half, you can still get all the same beer festival excitement and fun, but without the massive crowds and elbow rubbing.
3. Experience matters
Like I said, Gäubodenvolksfest has been going strong since 1812—that's just two years after the start of Oktoberfest—a whopping 210 years ago. They know a thing or two because they've seen a thing or two.
This Straubing Beer Festival isn't a newcomer or a fledgling little beer festival people aren't really sure about yet. No—this one is established, experienced, and already knows how to bring a good time to the thirsty masses.
4. The timing of the Straubing Beer Festival is essential
Gäubodenvolksfest takes place over 11 days each August. This is what we Oktoberfest lovers like to call "pre-gaming."
With Gäubodenvolksfest taking place during the second half of August each year, this is the perfect way to get into the volksfest spirit (and prepare your internal organs for the Oktoberfests to come).
Plus, taking place in August, the weather is perfect for an outdoor festival. It's a great way to end your summer and begin the fall festival season.
5. Straubing breweries only
Just like Oktoberfest in Munich, at Gäubodenvolksfest only local breweries are allowed to sell their beer. This is great because you'll get to taste new beers you maybe wouldn't otherwise—all while supporting the local beerconomy.
6. Traditional clothing welcome
Another reason to check out the Straubing Beer Festival is that it will give you another opportunity to wear your traditional Bavarian outfits. Many are discouraged from purchasing dirndls and lederhosen for Oktoberfest if they think they will only get to wear them once.
However, Gäubodenvolksfest is the perfect place to wear them again. As always, traditional clothing is always welcome here. Hello?! Pretty sure your accountant will appreciate this. And if you're still not sure what to wear, check out this page on what to wear for German beer festivals.
7. Straubing is so close to Munich
Though Straubing is worth visiting even just to check out the Gäubodenvolksfest, it's still within just a short drive (1.5 hours) of Bavaria's capital.
Given its location, it would be very easy to fly in and out of Munich's major airport as well as spend some time checking out all the cool things to do in Munich.
8. The Ostbayernschau Straubing
Along with experiencing the Straubing Beer Festival, you'll get to check out the Ostbayernschau Straubing—the largest consumer exhibition in the region featuring more than 750 exhibitors.
The self-described "largest shopping center in Bavaria" lasts for 9 days and spans over 60,000 square meters of exhibition space as well as outdoor space for outdoor companies. This trade show takes place right next to Gäubodenvolksfest, is free to attend, and you can purchase everything from "a cashmere scarf to a 250,000 euro mega tractor."
If you're looking to experience another "Oktoberfest" without traveling too far, Straubing, Germany has what you're looking for!
Save this info, pin this image: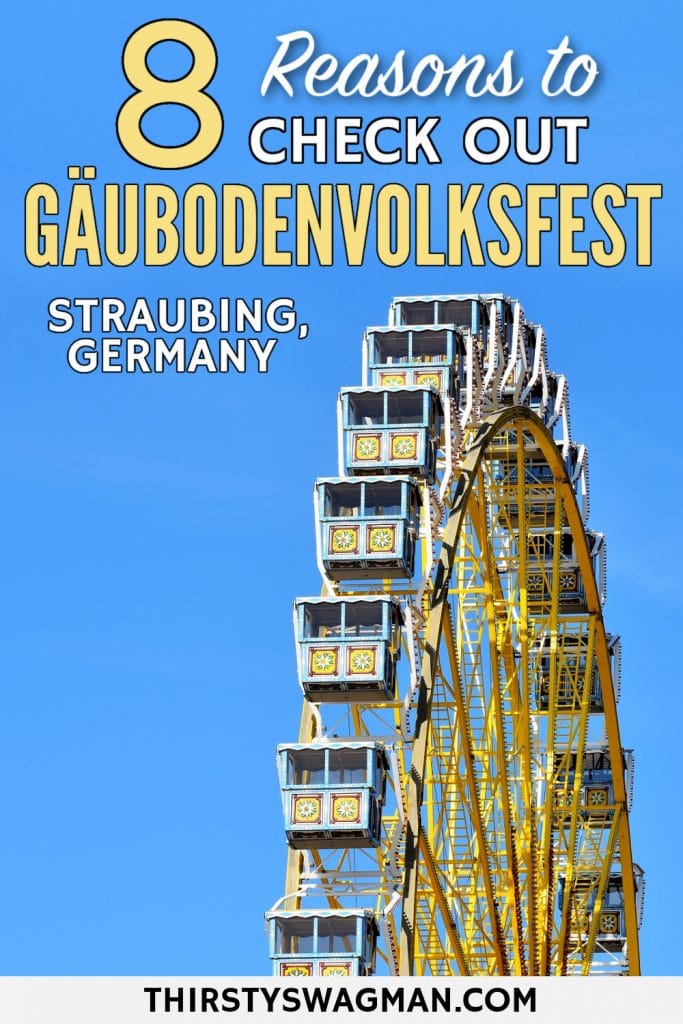 Social Share