I know, I know—you're an independent wo/man. You don't need anyone to hold your hand. You know how to change a tire. But every now and then, isn't it nice to be coddled? To feel safe, guiltlessly lazy, taken care of, and treated like a VIP? If that all sounds great but you don't want to give up your status as a feminist icon just yet (preach it sister!), maybe you should just travel with a tour group.
8 REASONS TO TRAVEL WITH A TOUR GROUP
Independent/solo/couple/friend travel is great. But just as those have their benefits, so does travelling in the opposite fashion: with a tour group. Tour group travel isn't just for your grandparents or high school students anymore and joining a tour says nothing about your ability as a traveller. (We know; you kick ass at it.) Here are eight reasons to travel with a tour group at any age:
01 | SOMEONE TO SHOW YOU ALL THE COOL STUFF IS BUILT IN
Guess what? Even though it's your first time to [insert awesome place here], your tour guides have already been there. Probably tons of times. Not only have they already experienced these locations and can provide all the behind-the-scenes info and need-to-know facts, they've also already vetted everything so you see only the best stuff [awesome place] has to offer. That means no needlessly wasted time, little disappointment, and zero boredom. Only the best kind of wasted time here (I'm miming the chugging of a beer with my hands, just FYI). They may also be on a first name basis with all the cool kids in town like, in our case, the servers in the Oktoberfest beer tents. Holla! Or whatever the German equivalent of Holla! Is.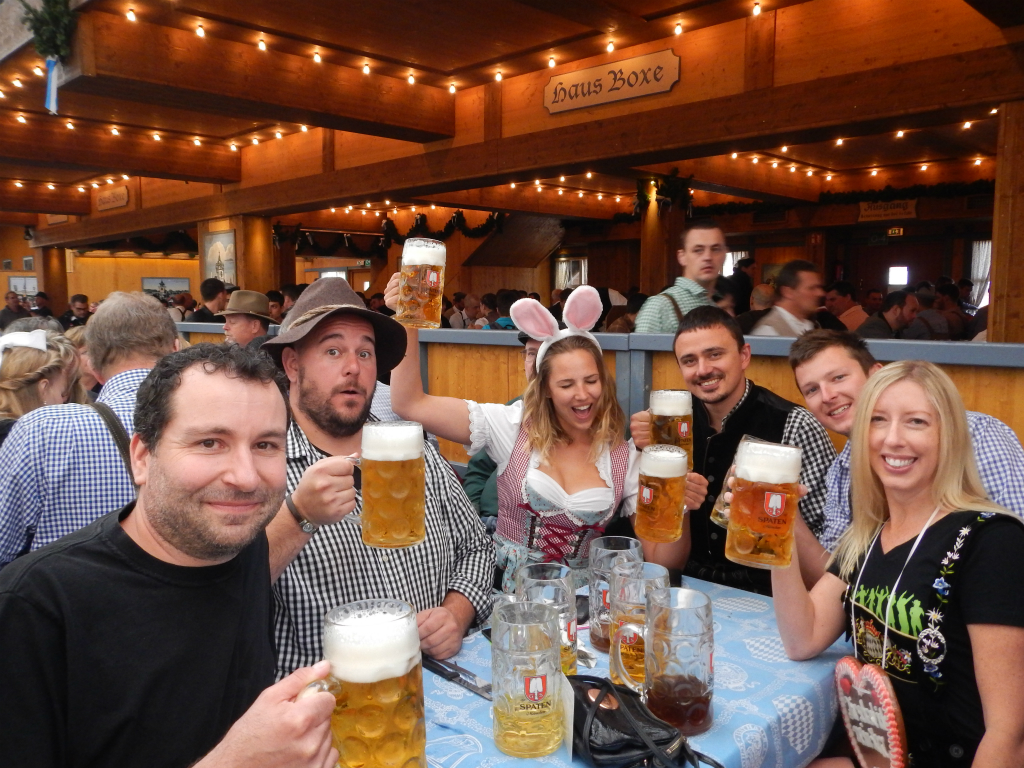 02 | THERE'S ALWAYS SOMEONE TO TAKE PHOTOS FOR YOU
…which we all know means of you. This means no more awkward selfies where your arm looks really big and you look like a fool because you have to take twenty of them; no more royally fudging your camera's self-timer; and no more having to ask strangers on the street who think the "rule of thirds" is an irrelevant geometry calculation about triangles. Or is it that thing where your two best friends are a couple and you accompany them on all their dates? See—too much to remember.
03 | TRAVEL WITH AND MAKE FRIENDS THAT SHARE A COMMON INTEREST
Finally, everyone agrees: Oktoberfest is THE FUNNEST.
Travelling with people who share a common interest (be it Oktoberfest, art lovers, foodies, Star Wars enthusiasts) means no longer having to compromise with your friends and family on where to go, what to do there, where to eat, or when to stop drinking (Never!). You're finally among people who all want to do the same stuff and who have similar travel goals (and tolerance levels). Everyone here loves polka! Everyone here wants to pretend they're a jedi! You're finally among your people!
Making friends is another one of the great reasons to travel with a tour group. Want to go on that one trip that none of your friends do (true dat), it doesn't have to be "go alone or don't go at all". Group travel is the solution and chances are you'll make lifelong friends in the process (who could possibly want to pretend they're jedis, so just be aware).
04 | YOU DON'T HAVE TO DO ANY OF THE PLANNING
*Sigh* glorious laziness. When travelling with a tour group you can forget all about having to spend days/weeks/months searching for decent hotels that you can afford, the best restaurants who also cater to your demanding culinary preferences (you know who you are), dealing with check-ins and check-outs, train and bus schedules, admission times and costs, trying to score Oktoberfest beer tent reservations, and *gasp* those long-ass lines!
Tour companies literally exist to do all of this for you so that all you have to is ENJOY YOURSELF. Remember when travelling was fun? Now what are you waiting for—bring me another ale!
05 | THERE'S SAFETY IN NUMBERS
Traveling with a group led by an experienced leader tends to be much safer than travelling solo or with a friend as there's less chance of you being targeted. I mean, you've seen how the lions go after the lonely gazelle that's been separated from the herd, right? On the other hand, no one is going to mess with you and your travel gang. (I'm literally picturing every Michael Jackson music video from the 1980s.) Plus, the more people there are to chase down a pickpocket, the higher the chance you'll catch him.*
If safety is a concern you have when it comes to travelling along or as a duo, this may be one of your deciding reasons to travel with a tour group.
*OMG don't chase down pickpockets.
06 | TRAVELLING WITH A TOUR GROUP MAKES GROUP TRAVEL A BREEZE
Have you ever planned a trip for you and six of your friends? Guiltyyyyyy! It's INVOLVED. Trying to coordinate tastes and budgets and flights to and from various destinations plus your friend's strict dietary restrictions is pretty intense. Then add in that one friend who's too big to fit in any European-sized bed and you've got your work cut out for you.
Travelling with your husband is one thing, but travelling in a group is a whole 'nother level of stress. But letting a tour company handle all the planning and your friend's 6'5" nonsense is a quick and painless remedy.
07 | YOUR PARENTS CAN RELAX A LITTLE
No matter how many countries you've been to or how much time you've spent on the road, your parents will always worry about you. It's right up there with "embarrassing the crap out of you in front of a potential mate". But travelling with an established tour-ganization, regardless of how experienced a traveller you are, will help ease your parents' minds. It's like they don't trust you! Preposterous! (Just kidding—totally justified.)
08 | SAVE MONEY BECAUSE YOU'RE BUYING IN BULK
At least, your tour company is. For instance, staying at certain hotels independently may cost a lot more than staying at those same hotels on a tour because tour companies have relationships with hotel providers (and more) and often buy blocks of rooms at a discounted rate. A discount that gets passed on to you. More dinero for beer-o!
The same can be said for getting group rates at popular attractions, chartering private transportation, getting discounts on fun activities, and the list goes on.
If any of these reasons to travel with a tour group appeal to you, check out all the tours we offer. Start with Oktoberfest, the Beer or Bust Tour, and La Tomatina in Spain.
Like this article? Pin it on Pinterest! ↓↓↓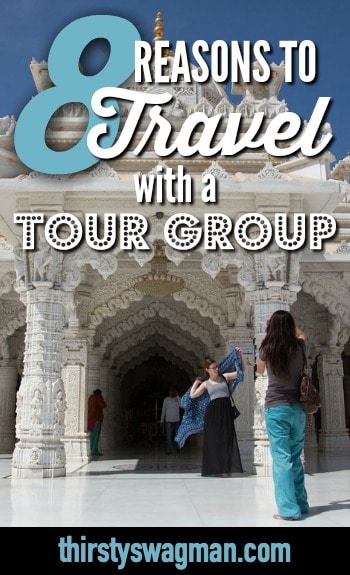 Social Share