If you're reading this, it's because you're one of us—lovers of the big 3: booze, travel, and procrastinating on your day job by sitting back and scrolling through other people's pictures on your phones. When you can combine all three of these, well that's how magic is made.
Did you think you were the only one holding up your beer in front of a beautiful backdrop or sipping your sangria seaside? Think again, partner. Turns out there's a whole booze/travel movement happening and alcohol has never looked so appetizing. Beers in Belize, prosecco in Paris, bourbon in Bangkok (somebody's probably drinking bourbon in Thailand, right?). So when you're ready to take a break from double-tapping pictures of your sister's cat or your cousin's toddler brats, I've found 13 of the best booze travel Instagrams you need to follow. Your sanity (and your wanderlust) depends on it.
01 | DRINK AROUND THE WORLD
Could the name say it any better? This account showcases some of the best booze travel Instagrams from users and locales all. over. the world. Tag their account in your booze travel Instagrams for a chance to be featured. And like any pro imbiber, don't be surprised to see a few non-alcoholic beverages in the mix. *cough* BUTTERBEER *cough*
02 | DRINKING WITH A VIEW
Much like your company holiday party, you won't find a drop of virgin booze here.
03 | DRINKS IN THE AIR
Because we all do it and it should be celebrated. Put those drinks up!
04 | I HAVE THIS THING WITH VINO
Because it's always wine o'clock somewhere, right? Like Paris, for instance…
05 | LIGHT LOAD TRAVELERS
Newlyweds Hayley and Chris travel the world and… well, apparently they drink a lot. Welcome to the club you guys!
06 | BEER TRAVELLERS
Because the best things in life will always have a beer and a trip in them. I can't say I disagree.
07 | VAGABEER
Kelsey is on a mission to drink her way through Asia. I can't foresee any way she could fail at this mission. Just none whatsoever.
08 | DRINK THE CITY
Caroline shares her sips to infinity from New York City and Beyond!
09 | TRAVELING UNDER THE INFLUENCE
Travel far, drink local, they say. They also give instructions on how to follow in their (probably really out of line) footsteps.
10 | THIS LIFE IN TRIPS
Shaun is a travel blogger who's created his own appropriate hashtag for booze travel Instagrams: #thislifeindrinks. I think a lot of us could be summed up in such a way, no?
11 | IT'S FIVE O'CLOCK HERE
Based in New York City but traveling the world where, apparently, it's always 5 o'clock. Can we all synchronize our watches, please?
12 | CRAFT BEER LOVIN
Another boozing blogger with a travel problem. Shame.
13 | US!
Obviously I wasn't going to let you go without letting you know about the Thirsty Swagman Instagram account. We got booze travel Instagrams out the wazoo and now you know where to find us.
Like this article? Pin it on Pinterest! ↓↓↓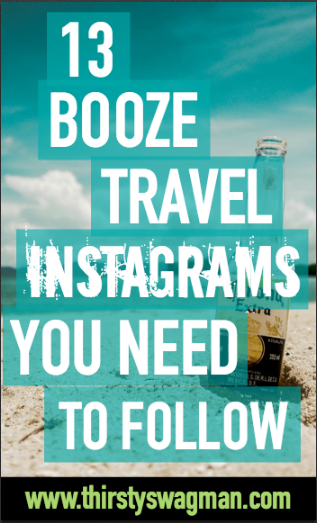 Social Share