I know what you're thinking and no, I'm not drunk right now. But the ladies I'm about to tell you about might be. These three Golden Girls (who are so golden they're actually platinum now) have discovered the fountain of youth and it's not a fountain at all. It's a 12-oz. aluminum can with an optional whiskey chaser.
MILDRED BOWERS—103
For starters, there's Mildred Bowers who swears that having an ice-cold beer every day at 4:00 has helped her to live to be 103. I say, if you're not drinking beer every day what's there to live for anyway? Miss Mildred currently lives in an assisted living facility in South Carolina where I imagine the only assistance she needs is tapping the keg. Those couplers can be tricky!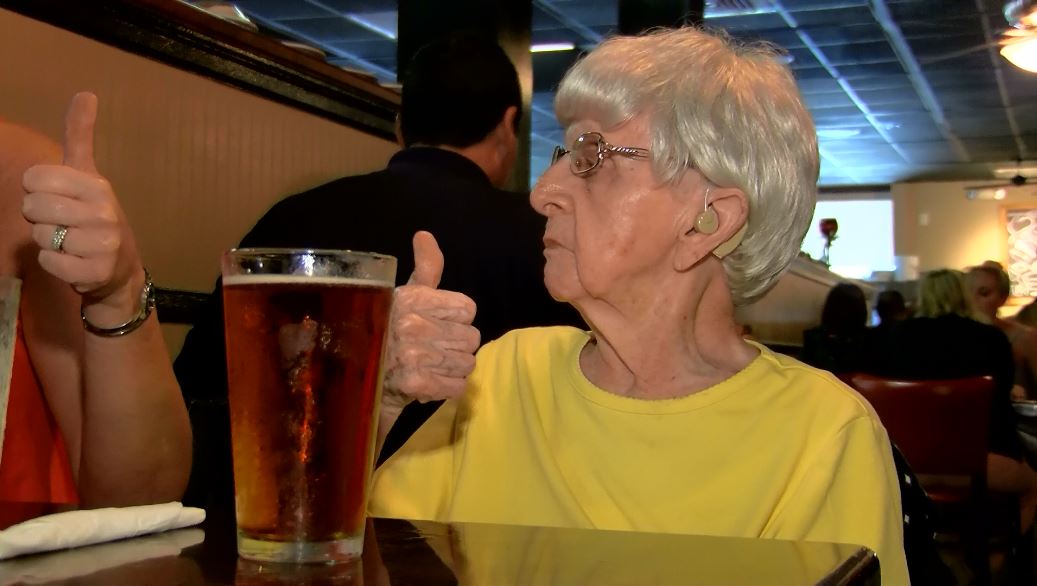 Mildred grew up with eight sisters (no wonder she started drinking) and has outlived two husbands. She claims to still possess a sharp mind and I'd have to agree. Let's face it, this woman has it all figured out plus she's probably still a faster drinker than me. And don't worry about Mildred—this one beer a day at-home cure-all has been approved by her doctor. It's the underground beer pong tournaments that she doesn't tell him about, shh.
GRACE JONES—110
Next up is Grace Jones of Broadway, Worcestershire in England who celebrated her 110th birthday earlier this year. Her claim to fame (and also probably something in the realm of Ripley's Believe It Or Not) is having lived so long thanks to her nightly consumption of whiskey. Grace says, in the cute little old British lady way she does, that she has just a spot (i.e. shot) of whiskey every night and has done so for the past 57 years. To quote her directly: "I don't drink but I have a little drop of whiskey every night."
Umm, who wants to be the one to alert Gracie to the error in her logic? Actually, forget it. I might use that one someday. "I haven't had anything to drink tonight Officer, promise. Only whiskey."
Grace admits to being in top-notch health for her age with the exception of some hearing loss. So… there's a chance her doctor was actually saying "risky" not "whiskey"? As in, "Drinking every night is risky." Well, no harm no foul right? She sums up her life beautifully: "No aches, no pains, good appetite, I sleep well." I bet you do, Grace Jones. I bet you do.
AGNES FENTON–111
Finally we have Agnes Fenton of New Jersey who was literally prescribed three cans of Miller High Life and a shot of whiskey a day to keep the doctor away. I should be clear that this was back in 1943, long before kale and chia seeds even existed. Agnes grew up in my hometown of Memphis, Tennessee and never had any children—most likely another contributor to a long, happy life. However, Agnes attributes her 111 years to the 70 she spent alongside her pal Johnny Walker Blue. (Dang, lady. You got fancy friends!)
The doctor who has been treating her for the last 20 of those years says she's in fabulous health and that "the few things she's had wrong with her have disappeared in ways they should not have." I say a toast to Agnes is in order—bring me the champagne! of beers!
Want to live that long? Consider going on some beer trips.
Like this article? Pin it on Pinterest! ↓↓↓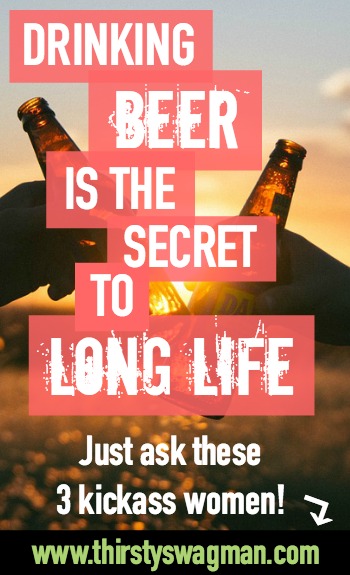 Social Share