Spain is pretty… umm… let's say "unique". They've got a long list of weird festivals, the abstract stylings of Antoni Gaudí and Pablo Picasso, and a borderline unhealthy relationship with ham. Even their baptisms are off-the-charts bananas.
It's that last one that I'm here today to discuss. The Pope is kinda mad about it. The devil seems to be enjoying himself a good bit though but let's not jump to conclusions. ⇠ You'll see why that's funny in a second.
Spain's baby-jumping festival
Just when you thought it couldn't get much weirder than thousands of people chucking tomatoes at each other like an angry mob at a half-priced comedy show (La Tomatina, I mean), you see a costumed adult man leaping over newborn babies laying in the street.
You can't make this stuff up, people! Well, I take that back because someone in the town of Castrillo de Murcia in the 1620s thought they had one hell of a fantastic idea.
I'm talking about the festival of El Salto del Colacho or, more frighteningly since people's babies are involved, "the devil's jump".
Sixty days after Easter, as part of the Catholic festival of Corpus Christi, a parade of sorts winds its way through the small town that has a population of just 500. To be clear, it's less of a parade and more of an Olympic hurdling event… with really short hurdles that suck on their own feet and drool on your shoulder.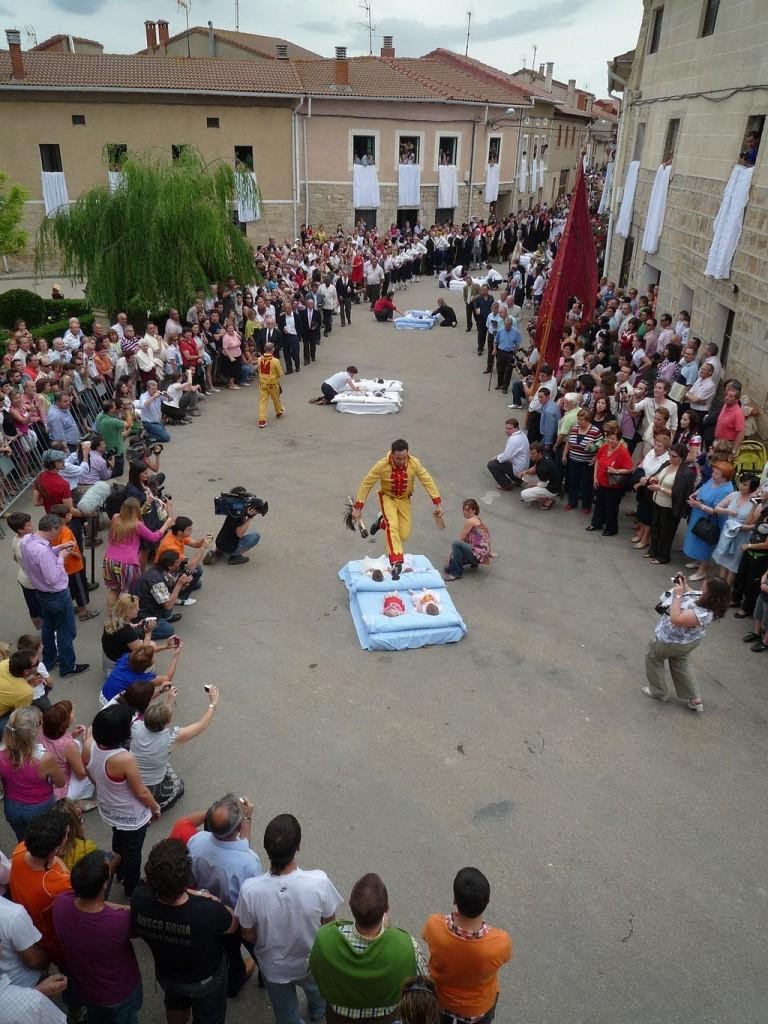 Here's how it all goes down (and back up again)…
Anyone with a child born in the previous twelve months is encouraged to partake in the festival. Parents lay their babies on mattresses in the street while grown men dressed like "the devil" run along the parade route jumping over them, up to ten at a time.
And just like magic, those little sinners are protected against eternal damnation and the flu, and are cleansed of all their evil-doings. (We're talking about what's in their diapers here, right?)
These colachos dress in red and yellow jumpsuits that remind you more of an Evel Knievel getup than that of religious authority–all too appropriate given their primary goals of death-defying leaps. Canyons? Infants? Eh, what's the difference really.
They wear modern running shoes—just like the ones Satan wears?—and carry whips. For whipping people along the parade route. Like, actually whipping the crap out of them.
Whatever it takes in name of the eternal salvation, am I right?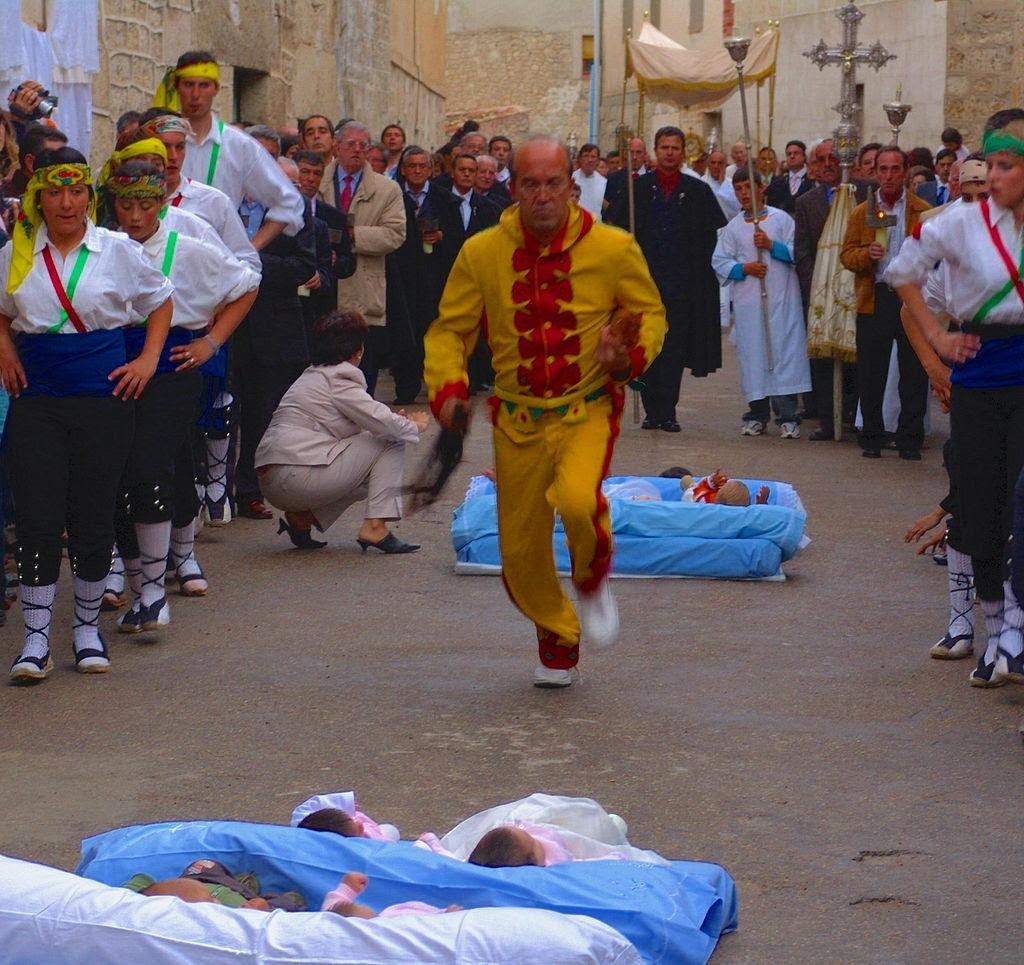 Don't anger the Pope, geez.
Though this festival began as a religious ceremony (and not the practical joke we all thought), it's not officially sanctioned by the Catholic Church today. "Officially"… okay, no problem… wink, wink.
Organized by the Brotherhood of Santísimo Sacramento de Minerva, the baby-jumping festival remains a vibrant tradition for the town of Castrillo de Murcia despite Pope Benedict's wishes that it be done away with. Though he feels only a traditional water baptism should be performed (because dunking babies underwater makes so much more sense than jumping over them) and no one takes it too seriously, desperate new parents still flock from all over to lay their babies in the street. "My child will be jumped over by only the finest colacho and that's final!"
Just about everyone in this small town was baptized this way and no serious injuries have been reported in the festival's almost-400-year history. If you think I'm making this up, as I'd expect you to, watch this video to see the colachos in action:
Like this post? Pin this image:
Social Share