This year marked my fourth visit to Ireland. It's fair to say I'm a little obsessed, but what's not to love about a country where the Guinness flows like water and craic (good times) is a daily guarantee? Places to party in Ireland are endless.  
I've spent a good chunk of time travelling the Emerald Isle over the years, including a full road trip around the peninsulas, conducting ancestral research in Co. Waterford, couchsurfing for weeks with Irish lads in Galway, and three repeat visits to Sligo (now considered my second home).
I've also spent at least 60% of that time inebriated.
Although during my first time in Dublin I participated in a crazy fun pub crawl, most of my favourite imbibing experiences have occurred in the other places to party in Ireland beyond Temple Bar and the Guinness Storehouse.
Galway
Galway is such a friendly, open town and, despite being considerably smaller than Dublin (about half the population!), there are limitless pubs, bars, and music venues for you to explore. Galway also has a large student population with a huge influx of Spanish exchange students so you can bet the weekends are never dull.
The downtown core of Galway is easily walkable, so take some time meandering the cobblestone streets until you see a pub that strikes your fancy. One of my favourites was The Salt House, especially for its traditional Irish music (you'll literally get shushed by other patrons if you interrupt an epic fiddle session). Crane Bar and Tigh Neachtain are also fun options.   
Otherwise, head to Eyre Square to check out the buskers or hang out with the locals near the Spanish Arches. And when you're sick to death of fiddle music, there's also a dance session at Roisin Dubh.
Sligo
Usually when I tell Irish people about my love affair with Sligo, they wrinkle up their nose and ask, "Why Sligo?" In my mind, it's one of the most special corners of the island.
Sligo is along the Wild Atlantic Way, and is home to an epic surf scene. And where there are surfers, there's beer, parties, and really good looking people. I tend to stay with friends in Strandhill, a small surf community near where some of Europe's best waves are. Strandhill is small, but it's also home to some fine drinking spots like The Strand and The Draft House Gastropub.
Sligo town is a whole different ball game and, despite the small population, the place knows how to party hard. There isn't a day of the week where you can't go out and find a good time, whether it's a wild fiddle session at Tricky McGarrigles or a lower-key trad circle at Shoot the Crow.
And when you want a whole mixed bag of goodies, the Fifth on Teeling is your best bet. Things get weird. Believe me.
The music in this town can't be beat, so keep your eyes peeled for live performances. If Rackhouse Pilfer is playing somewhere, you'll want to line up early.  
Belfast
Belfast is an interesting experience. There's no real way to describe the atmosphere of the place, but let's just say it feels entirely unlike anywhere else in Ireland.
I expected to spend a relaxing evening overnight in Belfast a few years back, but instead ended up having one of the most wild nights out in Ireland, ever. And it was a Tuesday.
Irish hospitality doesn't end in the Republic. The owner of the small hostel where I stayed invited me and my friend Julia to join him and his staff for drinks in the common area. They bought some beers, we played a few drinking games, and then we set out on the town for an improvised tour of the Belfast bar scene. We ended at Limelight, a crazy and chaotic night club chock full of young people, where apparently the theme of the evening involved the circus. There were literally acrobats and people dressed up as elephants.
I didn't get to experience the more traditional Irish pub scene in Belfast, but the Dirty Onion and Fibber Magee came highly recommended. Belfast is a weird and quirky place–and so are its bars. 
Fleadh Cheoil na hÉireann
The Fleadh (pronounced "fla") isn't a destination, but an annual festival celebrating all things Irish and musical. Outside Ireland, it isn't overly well known. Inside Ireland, it's the most important Irish traditional festival in the country.
Every year, the Fleadh changes destinations. I attended when the festival was being held in (you guessed it) Sligo. For one week, musicians and festival-goers descended on the small city of Sligo and took over the streets, bars, restaurants, and just about every nook and cranny available. The music was truly spectacular (you'll experience the best that Ireland has to offer as it's competitive as well), and I don't think I've ever witnessed so much spilled Guinness in my life.
But some of the real magic actually happens the day after the festival ends. Some of the musicians have gone home and the crowds have moved off, but you're likely to hear stunning music pouring from every pub anyway. Some musicians just linger. I sat stunned in a small pub as I watched random fiddlers and flutists walk in, sit down with the rest of the circle, and instantly strike up the rhythm–completely impromptu.
And that's when you'll have the best boozy, Guinness-soaked evenings in Ireland–when you're caught unawares in a near-empty pub in a small town on a Sunday afternoon. It could be Dingle or Derry or Belfast or Killarney or any other places to party in Ireland. I suggest you keep trying until it happens to you.
Thirsty yet? Check out our Ale of Man tour that explores some of the best places to party in Ireland.
Like this article? Pin it on Pinterest! ↓↓↓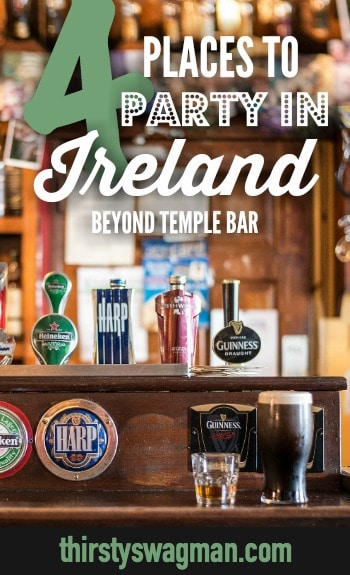 Social Share