Nördlingen, Germany is a hidden gem of a city located in the beautiful state of Bavaria along Germany's famous Romantic Road. Medieval town walls, buildings made of diamonds (true story!), and some of Germany's most iconic foods and drinks make this an unforgettable stop you won't want to miss. Here's what else you need to know about Nördlingen…
Table of contents
Essential information
Nördlingen is located in the Swabia region of Bavaria, just a quick 1.5-hour drive northwest of Munich. This hidden gem is easily accessible by train but is also just a simple drive away on the main Autobahn.
The currency in Nördlingen is EURO, the language is German, and the time zone is GMT+1.
Official Nördlingen website: https://www.noerdlingen.de/
Why visit Nördlingen?
Nördlingen is one of the most essential stops on the famous German tourist route known as the Romantische Strasse (Romantic Road). This medieval town boasts perfectly preserved architecture, an out-of-this-world origin story (pun intended), and a fairytale vibe you can't find outside of Bavaria.
It's easy to get to but you'll feel like you're a world away from it all while you fill up on delicious Bavarian beers and cuisine. Let's learn a little bit more about what makes this hidden gem stand out…
Nördlingen fun facts
Did you know… Nördlingen is one of only three cities in Germany that boasts perfectly preserved medieval town walls? (The other two are Rothenburg ob der Tauber and Dinkelsbühl.) These walls were built in the 14th century and can still be explored today.
Did you know… Nördlingen was built in the impact crater of a meteorite that hit the earth about 15 million years ago? It's true – this meteor is believed to have been almost two miles wide, the outer ring of which you can still see from the top of the town's church spire. Want to know more? Check out Nördlingen's Crater Museum for all the out-of-this-world info.
Did you know… Nördlingen's oldest buildings and structures are made out of diamonds? When that meteor hit the earth, it deposited millions of tiny diamonds into the very rock and stone that was used to construct medieval Nördlingen. Today, the city's buildings and sidewalks still sparkle in the sunlight.
Did you know… Nördlingen makes an appearance in the 1971 movie Willy Wonka and the Chocolate Factory? At the end, when the glass elevator busts out of the factory, the city you're looking down on is actually Nördlingen.
What to do in Nördlingen
No, mine diamonds out of the city sidewalks is unfortunately not one of the things to do in Nördlingen… but luckily these are:
Visit the

Crater Museum

– Located in a barn built in 1503, you can learn all about the meteor that created the space you're now drinking beer in. They even have a piece of the moon on display.
Have a beer, wine or cocktail at

Das Stäpfele

, a historic underground wine cellar. It's only open on Friday and Saturday or for group bookings any day of the week.
Check out the

Bayrish-Pub

, a unique fusion of Irish pub and Bavarian tradition.
Walk the historic city walls – the perfectly intact medieval walls make the perfect walking path around this beautiful city.
Check out the views from the Daniel – Climb the 365 steps to the top of the city's 300-foot high church spire for amazing views of Nördlingen from above.
Explore

Harburg Castle

– Built almost 1,000 years ago this true medieval castle will transport you back in time.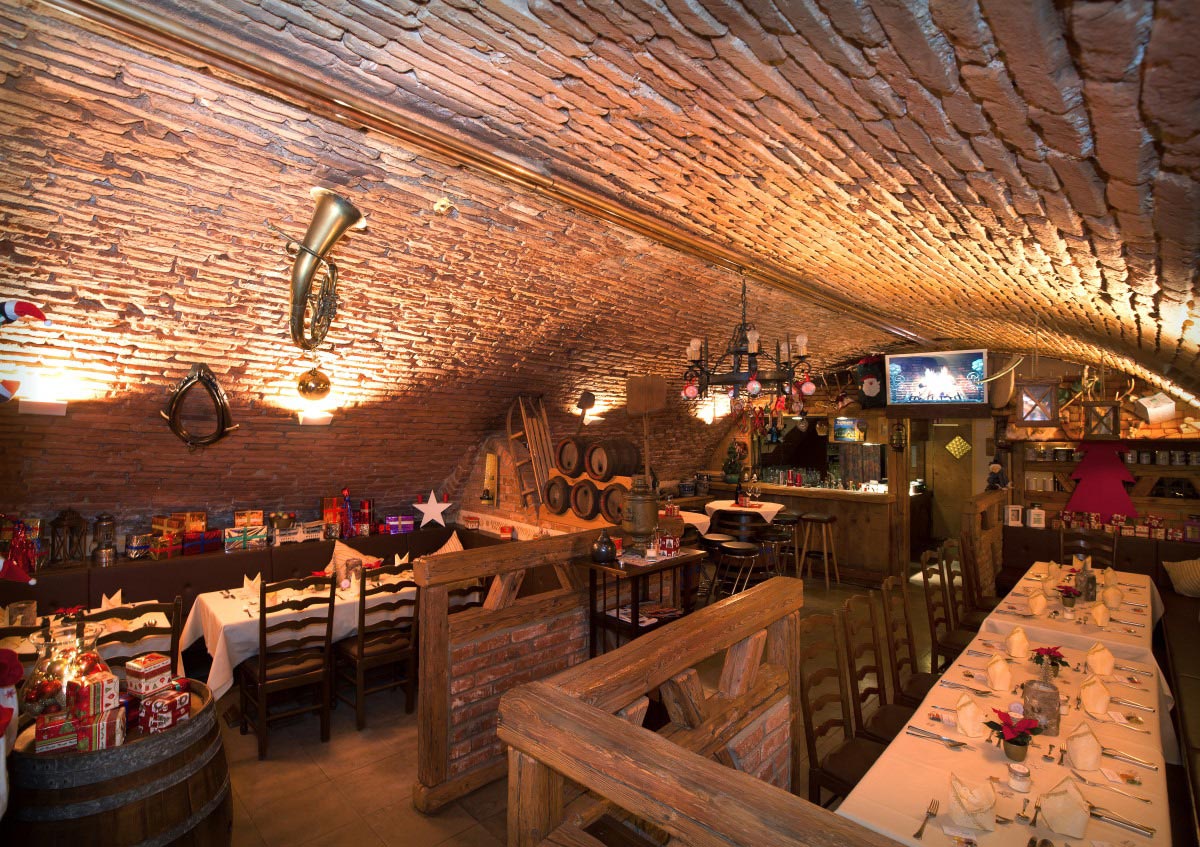 How to visit Nördlingen
The easiest way to get there is by car. There are several parking garages within the old-town and parking lots just outside the city walls.
If you are travelling by rail, the train station is about a 15-minute walk from the center of the city (within the walls). Book a train ticket directly at Deutsche Bahn: https://www.bahn.com/en
If you are flying in from overseas, the closest major airport is Munich.
Driving & Train times from major cities
Munich – 2h driving, 1h 50min train (1 change)
Nuremberg – 1h 30min driving, 2h train (1 change)
Frankfurt – 3h 10min driving, 4h train (2 changes)
Stuttgart – 1h 45min driving, 1h 55min train (1 change)
Salzburg, Austria – 3h 20 min driving, 3h 40min train (2 changes)
Nördlingen is a destination on our A Knight's Ale tour.