Rothenburg ob der Tauber is a fairy-tale wonderland on Germany's famed Romantic Road. Here you can step back in time to drink flagons of ale in medieval taverns, enjoy unforgettable local delicacies, and walk the centuries-old defensive wall. Here is what makes Rothenburg ob der Tauber one of the most popular destinations on our tours…
Table of contents
Essential Rothenburg information
Rothenburg ob der Tauber is located in the Franconian region of northern Bavaria (so you already know delicious food and tasty beers await you). Located about 2.5 hours north of Munich, Rothenburg is one of the most well-known stops on Germany's famous road trip route, the Romantic Road.
The currency in Rothenburg is the EURO, the language is German, and the time zone is GMT+1.
Official Rothenburg ob der Tauber website: https://www.rothenburg-tourismus.de/en/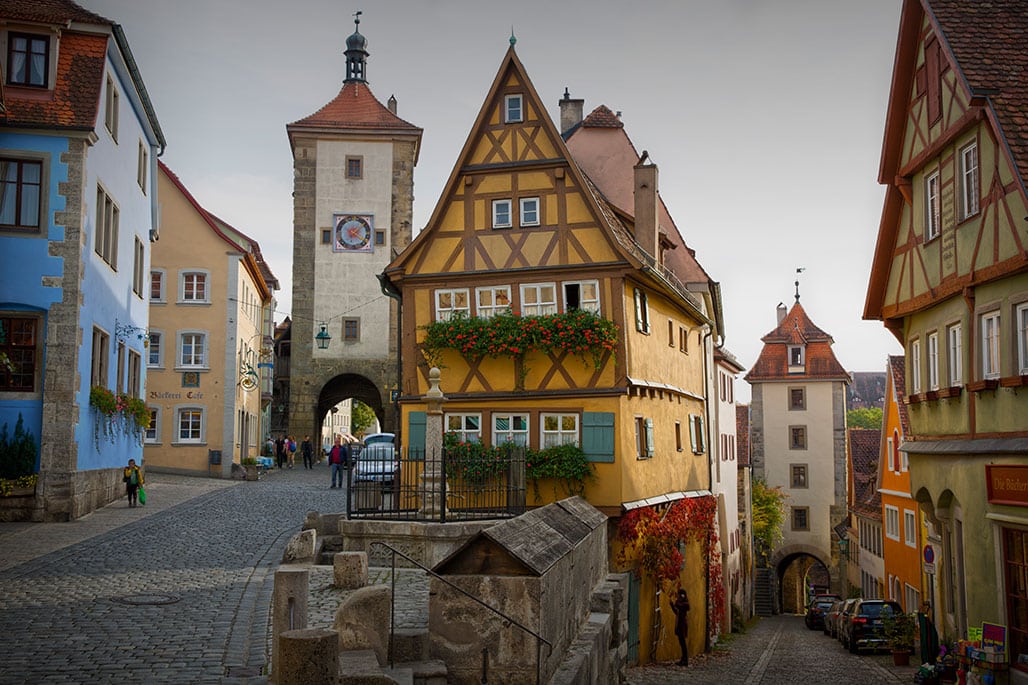 Why visit Rothenburg ob der Tauber?
So why should you visit Rothenburg and what's it known for? Well, you're in for a treat.
Rothenburg ob der Tauber is most famous for being an incredibly well-preserved medieval town with a real fairy tale vibe. Walking through these colorful streets you'll swear you've gone back in time. You can even dine (and drink, huzzah!) in a 1,000-year-old tavern—an experience you won't soon forget.
Rothenburg is also home to some delicious food and drink items you won't find in many other places. Things like…
Schneeballen – ("snowballs" in German) These delicious treats are made of rolled pastry crust that's covered in a variety of toppings like cinnamon sugar, chocolate and nuts, and more.
Zwiebelkuchen – ("onion cake") This seasonal food is a savory "cake" made of onions, bacon, cream, and lots of other delicious ingredients. (It'll remind you of a quiche.) Onion cake hails from the Rothenburg area and is typically only served in the fall.
Federweisser – ("feather white", OK that doesn't tell you much) Federweisser is actually a kind of sweet, young wine that is only available in this region in September and October. It is typically served with onion cake!
Rothenburg ob der Tauber is also world famous for being a delightful destination for Christmas lovers. It is home to a number of shops selling handmade Christmas ornaments and traditional decorations of all kinds. It also boasts one heck of a Christmas museum you have to see to believe.
Rothenburg fun facts
Did you know… Rothenburg ob der Tauber is one of just three German towns that still has its medieval defensive wall intact? It was built in the 1200s and is 3 kilometers / 2 miles long. The other two towns are Nördlingen and Dinkelsbühl.
Did you know… the 1968 movie Chitty Chitty Bang Bang was filmed in Rothenburg ob der Tauber?
Did you know… the town's mayor once saved the Rothenburg from destruction by chugging a tankard of wine? It's true! (Well, allegedly.) Rothenburg's conquerors challenged the mayor to, essentially, a drink-off. If the mayor could down an entire 3.25-liter mug of wine in one go, he could keep his town. And he did!
This magnificent feat is now honored with an annual festival in May and an hourly commemoration. As the town hall's clock chimes the hour, the window opens and reveals a man (the mayor) drinking his tankard of wine.
You can even view the legendary tankard inside the town's Rothenburg Museum.
What to do in Rothenburg ob der Tauber
Rothenburg isn't just beautiful to look at and charming to stroll through. Here are some of the most popular things to do in Rothenburg ob der Tauber:
Take the Night Watchman tour – Rothenburg's medieval Night Watchman tour takes curious visitors on an evening walk through the darken streets of Rothenburg. He teaches them about the town's history, medieval crime and punishment, and lots more fun facts from the Middle Ages. But beyond all that, this is the most hilarious hour you'll spend in Rothenburg.
Walk the city walls – Rothenburg's famed medieval defensive walls are still accessible to everyone who visits. It's free to walk the walls and you can get on and off them in many places around town. Walk along the top of the wall for some incredible views of Rothenburg while feeling like a fairytale prince/princess/regular ol' peasant, whatever you want.
Zur Höll – ("To Hell") While in Rothenburg, a dinner at the Zur Höll tavern is a must. This 1,000-year-old tavern has some of the best food (and drinks!) in Rothenburg in such a cool atmosphere. You can even dine by candlelight in its cave portion.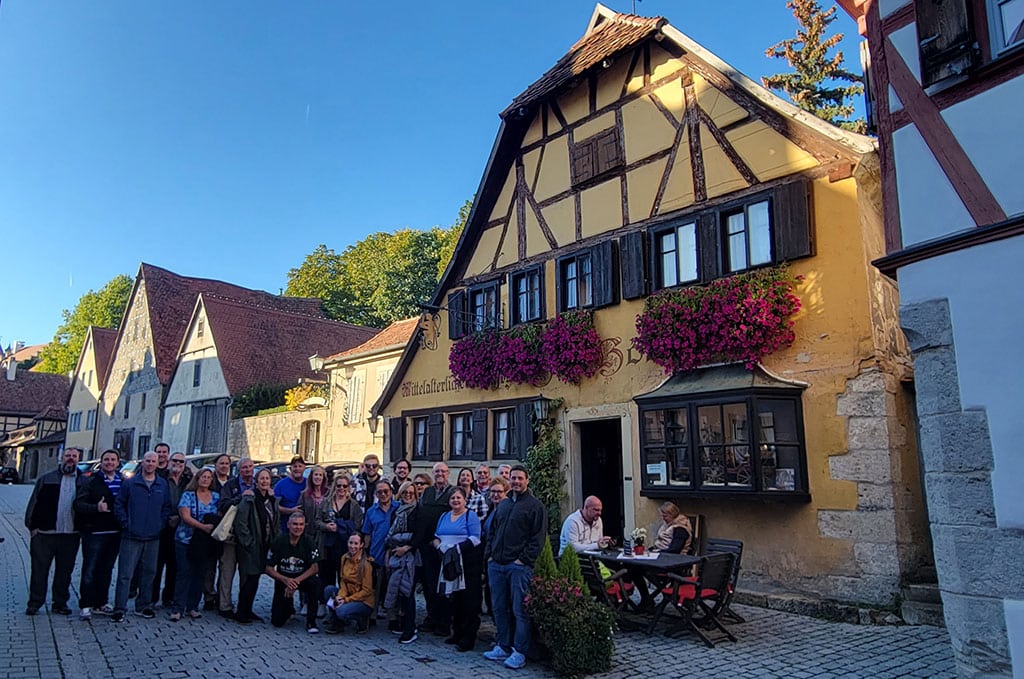 Check out the Plönlein – The most famous spot in all of Rothenburg is the town's Plönlein, the iconic intersection of fairytale half-timbered houses and fountains.
Medieval Crime and Justice Museum – At Rothenburg's most popular museum you'll get to learn all about why you should be happy you're alive now and not then. You can see medieval torture devices and learn about punishments like "baker dunking." It's interesting.
Christmas museum – If you're *whatever the opposite of a Scrooge is* and want to experience Christmas all year long, stop by Rothenburg's Christmas museum. You can see historical Christmas decorations, learn about German Christmas traditions, and of course shop!
How to visit Rothenburg ob der Tauber
The easiest way to get there is by car. There are several large parking lots just outside the city walls and a 24 hour ticket is just € 5.50. Vehicles cannot enter the town from 7pm until 6am.
For more info on parking: https://www.rothenburg-tourismus.de/en/service/parking/
The streets are almost entirely cobblestone, so take this into account when booking a hotel – you'll have to get your luggage there and most hotels are not accessible by car. Some hotels offer a free shuttle service from the parking lots to the hotel.
If you are travelling by rail, the train station is about a ten-minute walk from the center of the city (within the walls at the Rödertor gate)
Book a train ticket directly at Deutsche Bahn: https://www.bahn.com/en
If you are flying in from overseas, the closest major airport is Frankfurt.
Driving & Train times from major cities
Frankfurt – 2h driving, 3h 15min train (2 changes)
Munich – 2h 45min driving, 3h to 3h 30min train (2 to 3 changes)
Nuremberg – 1h 10min driving, 1h 20min to 2h train (1 to 2 changes)
Stuttgart – 2h driving, 2h 30min train (1 change)
Rothenburg ob der Tauber is a destination on our Beer or Bust tour and our A Knight's Ale tour.